"But He was wounded for our transgressions, He was bruised for our iniquities; the chastisement for our peace was upon Him, and by His stripes we are healed." (Isaiah 53:5)
---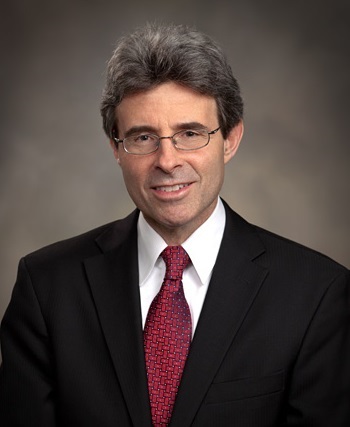 Thank you for visiting our website! Whether a member, candidate or inquirer, I trust you will find it to be a helpful resource. To begin, I would invite you to explore our Membership News articles immediately below.
Appreciatively in the Lord,
Dr. Robert H. Turrill
President & CEO
Evangelical Church Alliance
Num. 6:24
---
The ECA's Rev. Huntley Brown, Pianist for the World Summit in Defense of Persecuted Christians, May 10-13, 2017, in Washington, D.C.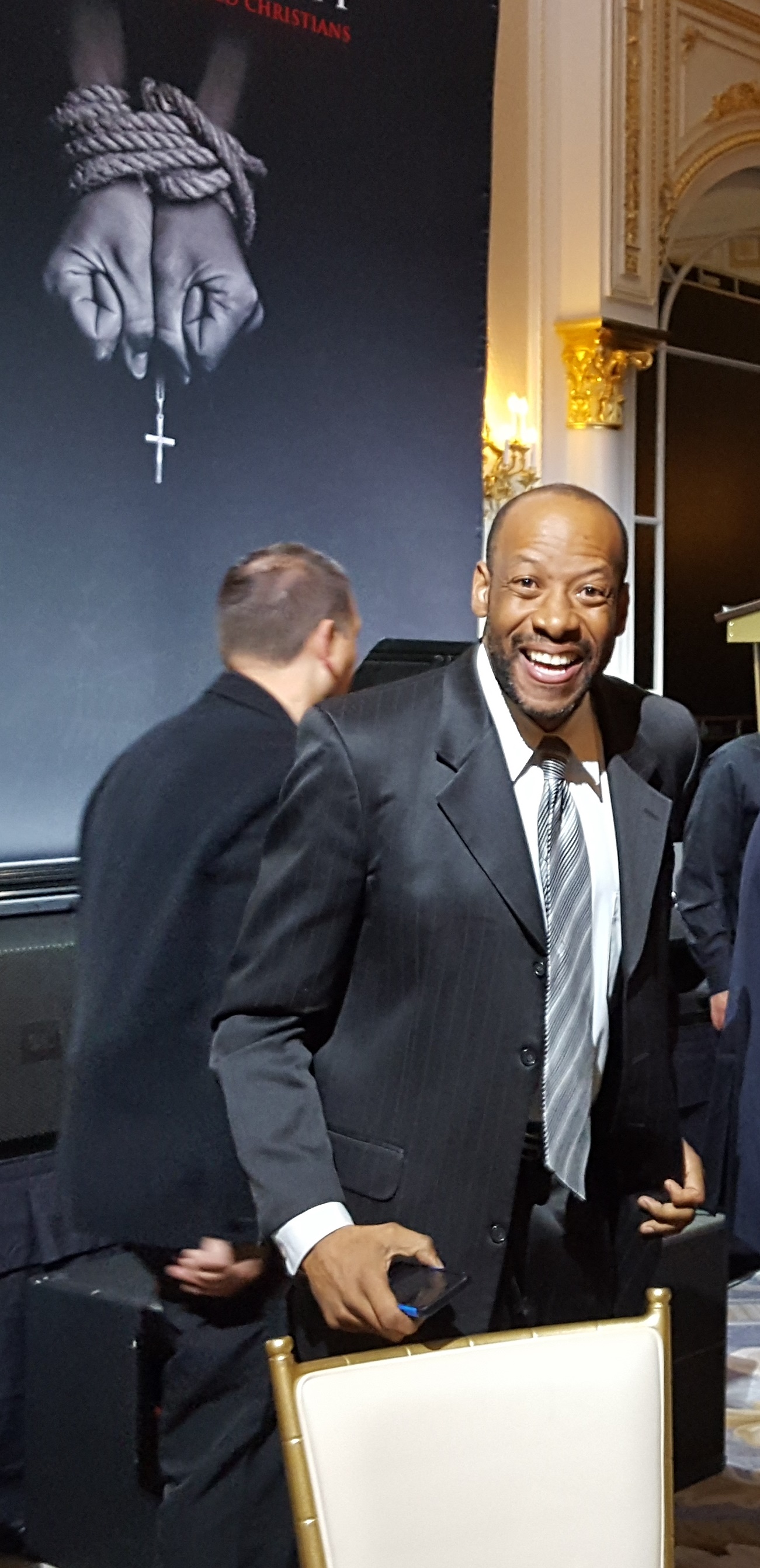 Rev. Huntley Brown at World Summit
Hosted by Dr. Franklin Graham and the Billy Graham Evangelistic Association, for which Rev. Brown plays internationally, the summit had over 600 attendees from 130 countries. Dr. Turrill also attended the event and had the privilege of engaging fellow believers tortured for their faith or who had lost loved ones due to martyrdom. To learn more about this momentous occasion from Dr. Graham himself, click on 'The Persecution of One Christian Affects Us All' - YouTube.
---
"Knights of the 21st Century", an Effectual Men's Ministry, Developed by the ECA's Dr. Roy Smith
Dr. Smith
A fruitful and essential kingdom work for this day and age, "Knights of the 21st Century" (www.k21.men) produces DVD/curriculum programs to help men grow and learn how to lead more effectively, contributing to the overarching goal of positively changing our culture. The National Coalition of Ministries to Men chose "Knights of the 21st Century" as Men's Ministry of the Year for 2015. Dr. Smith, also the author of several books in the area of men's issues, has served in addition as a consultant for several women's DVD/curriculum series. The founder and CEO of Pennsylvania Counseling Services (www.pacounseling.com) of which "Knights of the 21st Century" is a division, he holds a Master of Divinity as well as a Masters and Ph.D. in Clinical Psychology.
---
The ECA's Dr. Aleck Brown Authors Second Book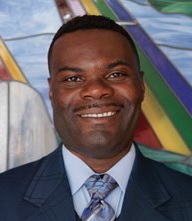 Dr. Aleck Brown
Dr. Brown, the author of New Testament Handbook, just released his second book, The Personhood of the Holy Spirit, also the topic of his Ph.D. dissertation. To learn more about both works and to read his informative bio, click here.
---
ECA's Chaplain Joseph Choi Earns Doctor of Ministry Degree Dec. 17, 2016, through Biola University's Talbot School of Theology, La Mirada, California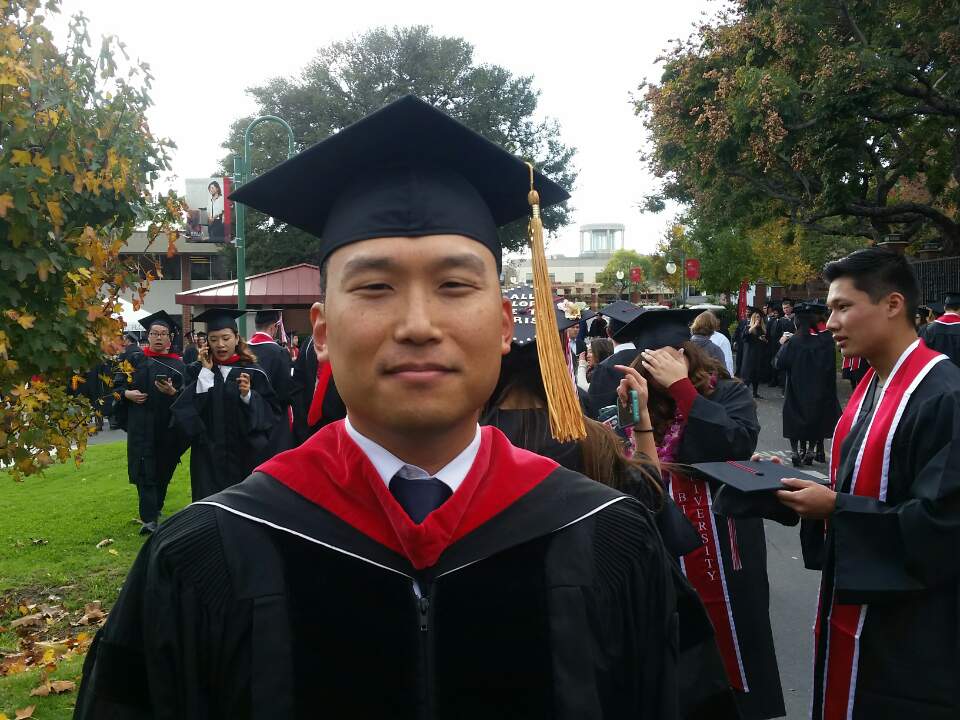 Brother Choi
Congratulations Dr. Choi and may the Lord be praised!
---
Dr. Samuel S. Goebel, ECA's Chairman of the Board and Former President, Guest Evangelist for October 13-16, 2016, Revival at Everett Community Church in Everett County, Missouri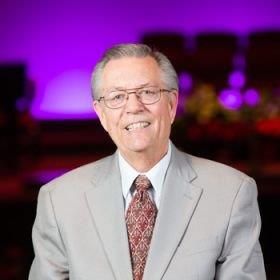 Dr. Goebel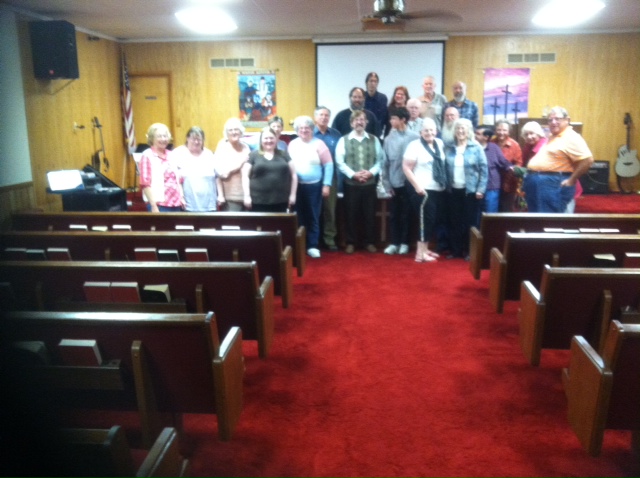 Revival attendees gathered at Everett Community Church
Thank you, Brother Goebel, for preaching the Word!
---
Dr. Lemenager Featured Speaker at August 20, 2016, ECA-Sponsored Seminar for Korean Immigrant Pastors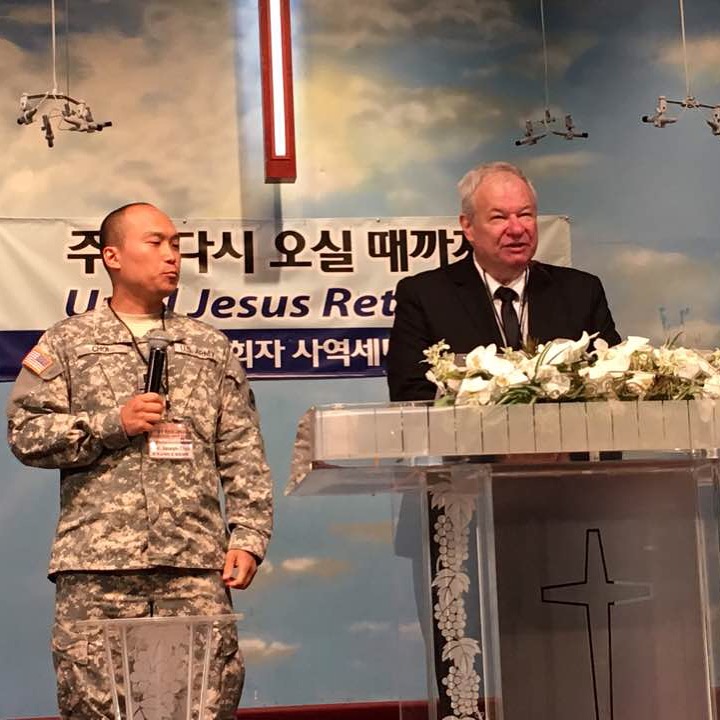 Dr. Lemenager at pulpit for the occasion and accompanied by the ECA's US Army Chaplain (Captain) Joseph Choi
To read Christianity Daily's excellent article, 'Your Labor Is Not In Vain': Pastors Encouraged to Persevere, written by Rachel Lee for the occasion, click here.
http://www.christianitydaily.com/articles/8426/20160825/labor-vain-pastors-encouraged-persevere.htm
---
Rev. Myles and Katharine Weiss of Zola Levitt Ministries Lead Television Production Team to Film Holocaust Series in Poland and Israel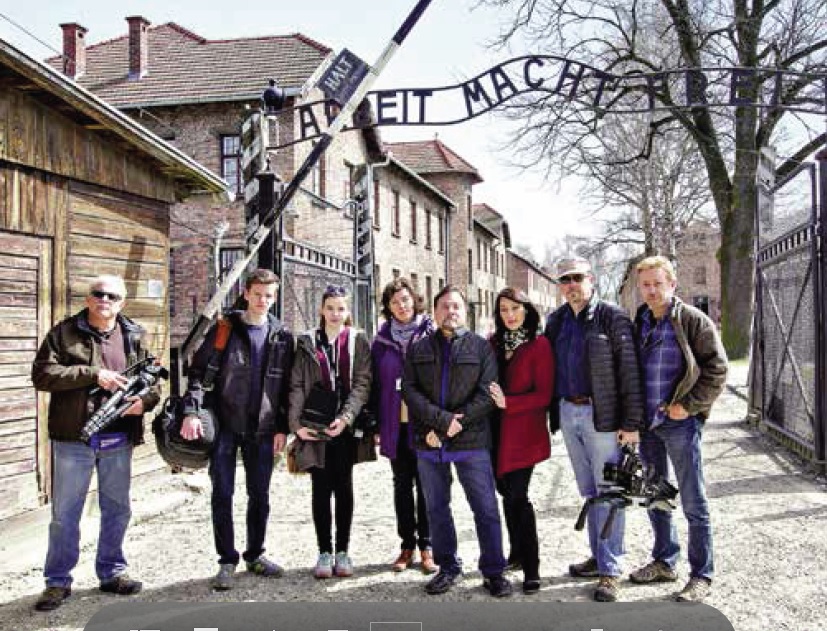 Rev. and Katharine Weiss (5th and 6th from left) with other members of the production team at the infamous Auschwitz-Birkenau death camp
(Photo: Ken Berg-Zola Levitt Ministries)
This past spring the ECA's Rev. Myles Weiss and his wife, Katharine, co-hosts of the weekly television program, Zola Levitt Presents, of Zola Levitt Ministries (www.levitt.com), led a production team to film the series, Beauty for Ashes, on location in Poland and Israel. To air in September (2016), this labor of love hosts eight programs including footage and on-site teaching from Auschwitz-Birkenau, interviews with Holocaust survivors and teaching from reborn Israel featuring the nation's marvel of agriculture, artistic breakthroughs and interviews with some of the land of Abraham, Isaac and Jacob's high-tech leaders. The haunting words, ARBEIT MACHT FREI (German for "Work sets you free"), shown in the photo above, were a cruel mockery to the doomed inmates systematically murdered at the concentration camp. This phrase (actually part of a title of a novel written in 1873 by the German nationalist, novelist, philologist, lexicographer, librarian and pastor Georg Anton Lorenz Diefenbach and with the theme that degenerates could redeem their virtue through labor), found a diabolical and convenient use by Nazi perpetrators 70 years later.
Also, our brother and sister invite you to click on gg2gg.org to learn about their various ministries and greater vision, Golden Gate to Golden Gate, in their words "dedicated to bringing the message of God's heart for Israel and the Jewish people into alignment with the Church. Our message is proclaimed through television, print, online, and our two Messianic Congregations Beth Shalom and Beit Abba." They asked for your prayers and support, and are available for speaking opportunities through contact information on the Golden Gate to Golden Gate website.
---
ECA's Dr. Sotar Alphonso-Lloyd Ministers to the Lemba in Zimbabwe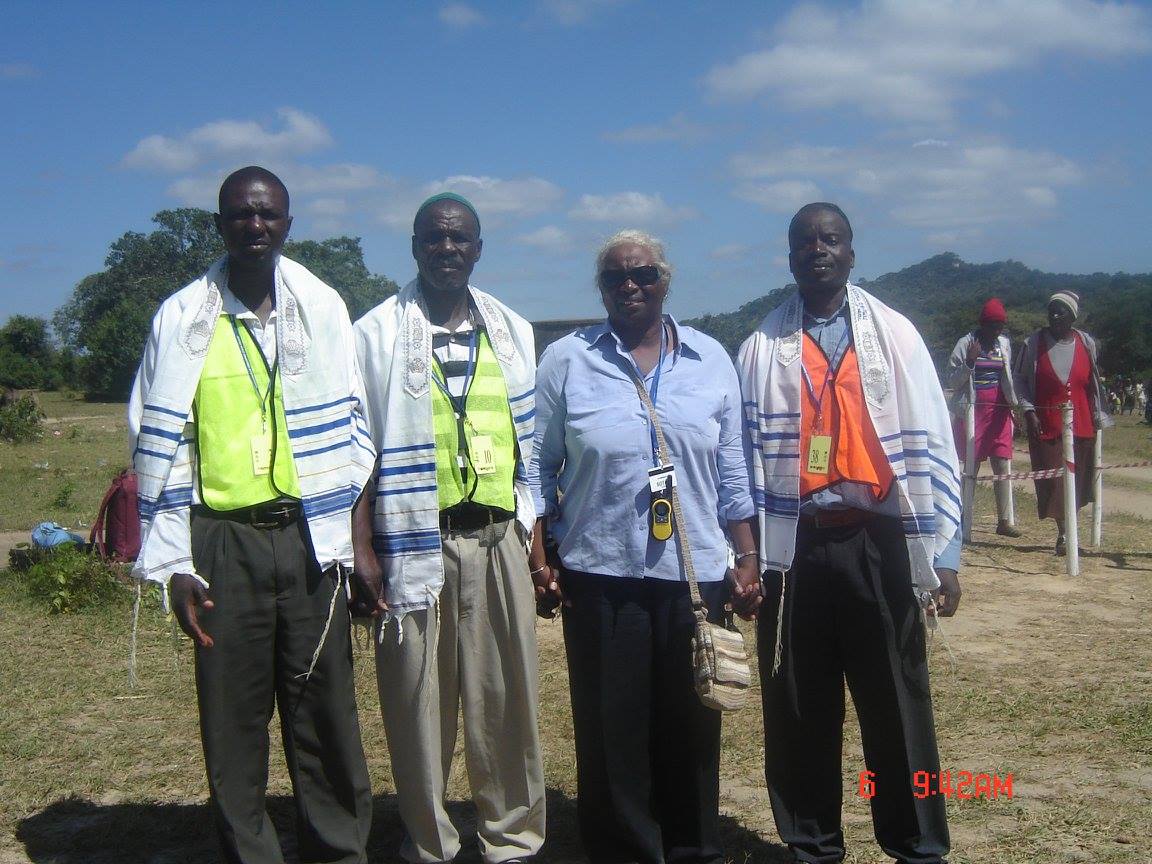 Dr. Alphonso-Lloyd with Lemba representatives
From April 7-17, 2016, Dr. Sotar Alphonso-Lloyd traveled on a medical mission trip with Jewish Voice Ministries International (www.jewishvoice.org). Serving as a chaplain, she ministered to the impoverished Jewish community of the Lemba in Mberengwa, Zimbabwe.
---
Dr. Scott Lemenager, Special Assistant to ECA President, Outstanding Faculty Award Recipient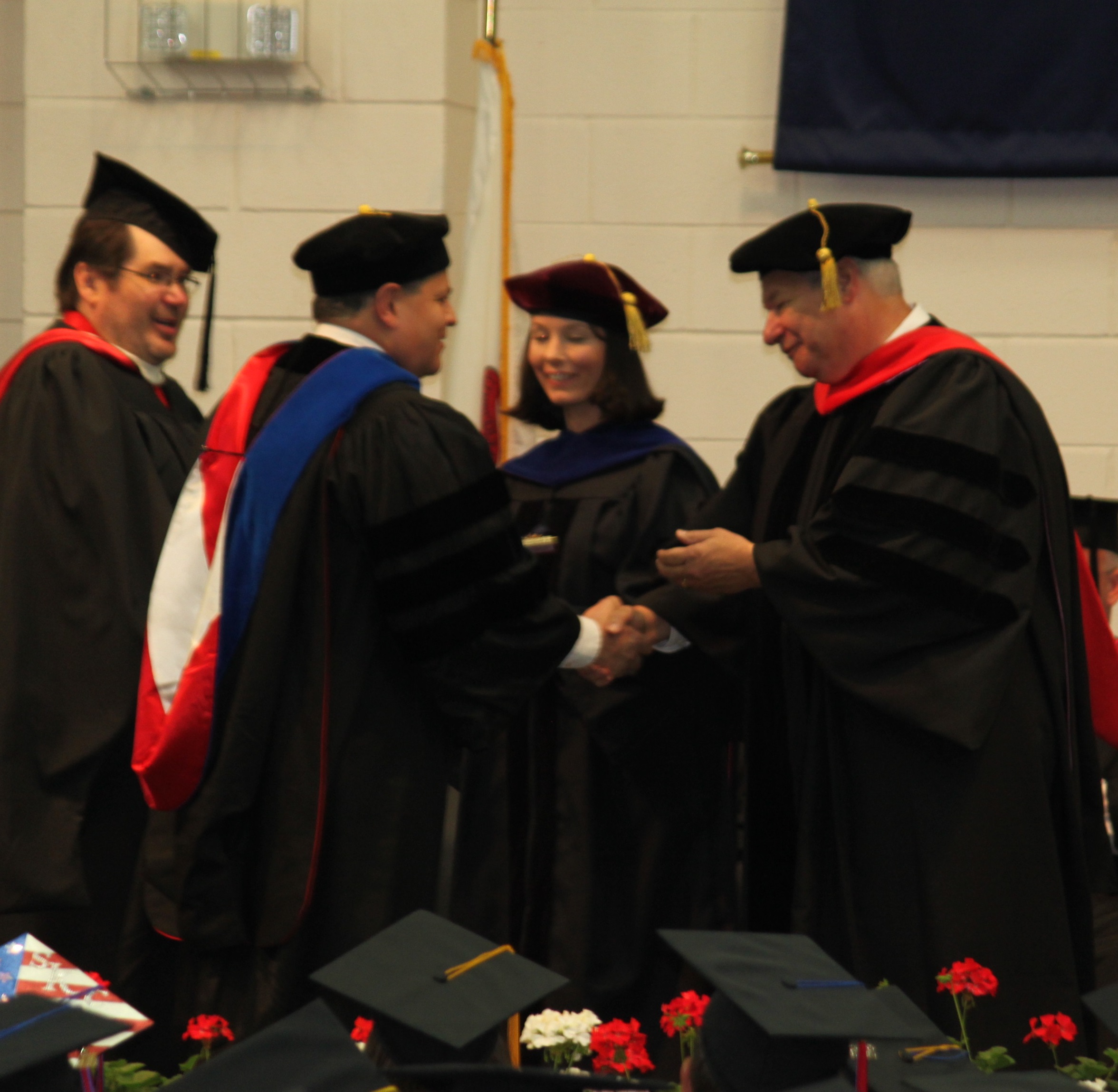 College President, Dr. John Avendano, presenting award to Dr. Lemenager (far right)
A scholar and educator, Rev. Lemenager, Adjunct Professor, Humanities and Social Sciences Division, Kankakee Community College, received the award medallion bearing the words, Outstanding Faculty Member, during the May 14, 2016, graduation ceremony at Kankakee Community College in Illinois. Ordained with the ECA, he has extensive experience as a pastor, church planter, stated clerk of presbytery and servant in the international mission field.
---
Dr. Turrill, Guest of the Honorable Roey Gilad, Consul General of Israel to the Midwest U.S., at May 12, 2016, 68th Anniversary of the State of Israel Celebration in Chicago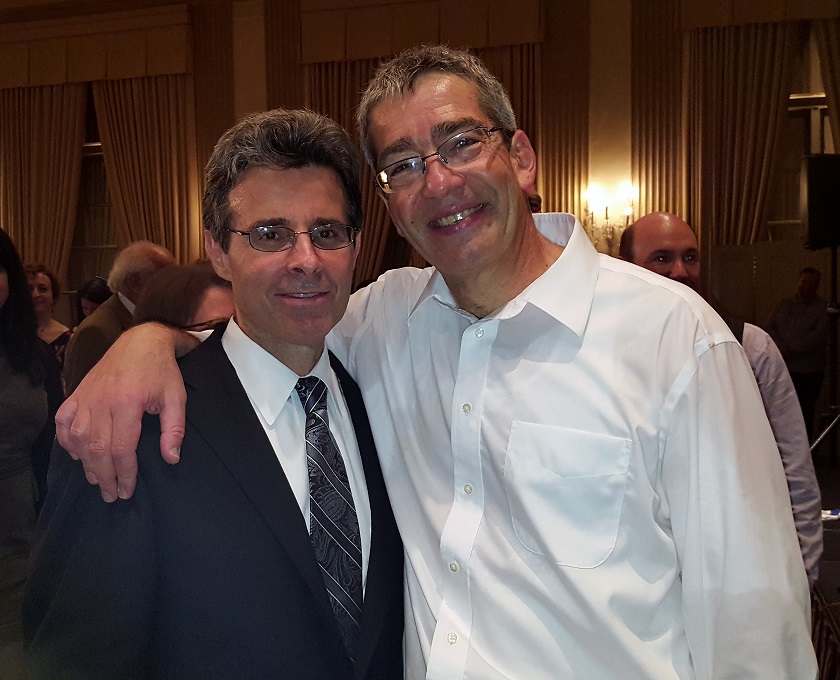 Dr. Turrill with Consul General, Roey Gilad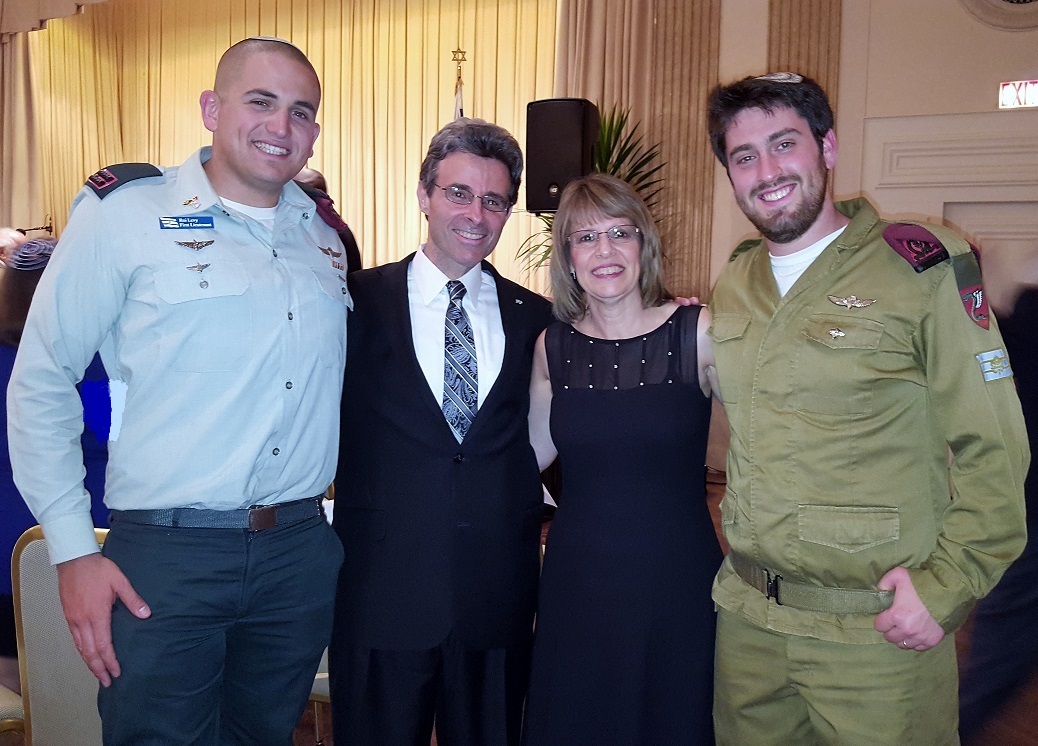 Dr. and Mrs. Turrill with Israeli military personnel
"Pray for the peace of Jerusalem..." (Psalm 122:6)
---
If you are looking for a position, or to fill one, browse our Ministry Opportunities and Offers page.
---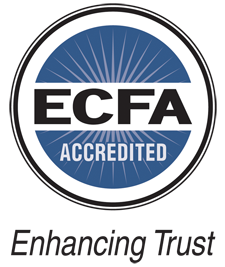 The ECA is a member in good standing of the Evangelical Council on Financial Accountability (ECFA). Our compliance with ECFA's standards gives testimony to our commitment to the highest standards of fundraising and financial management.
---

2017 ECA Events and Theme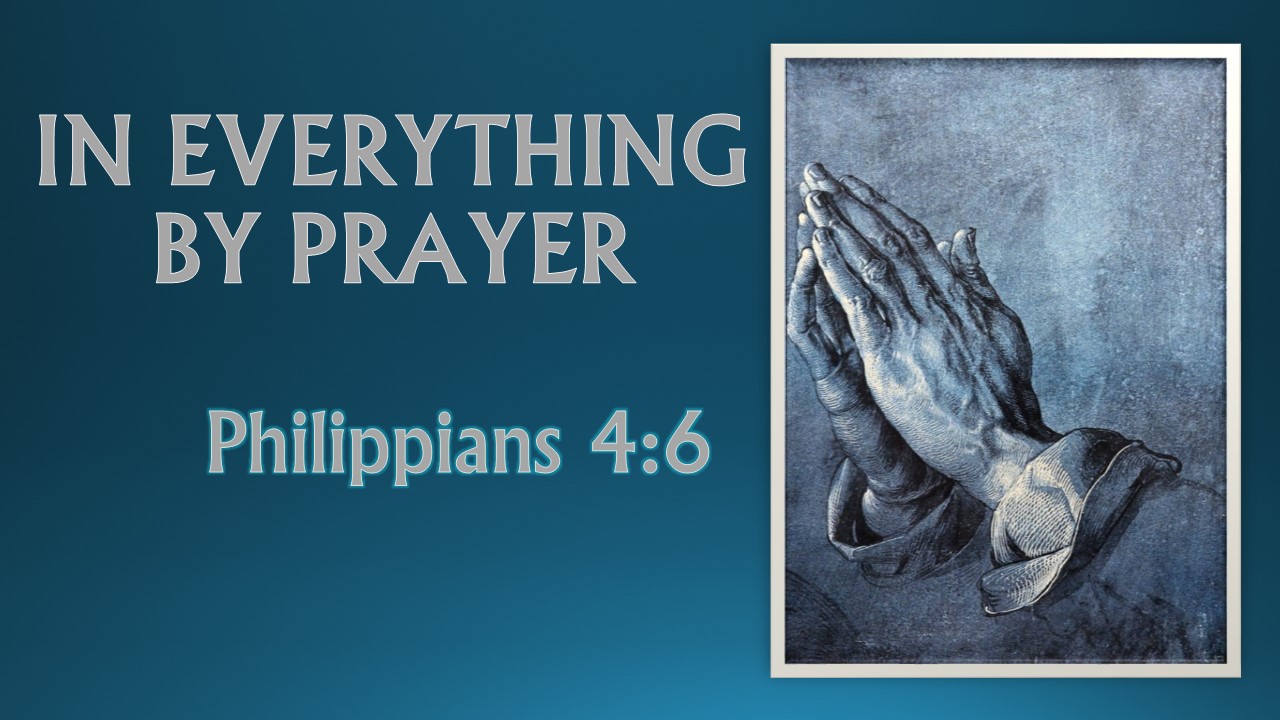 Dear ECA members, candidates and friends:
For centuries the image immediately above of clasped hands, a work conceived by German Renaissance artist, Albrecht Duerer, has served as a universal symbol for prayer. Perhaps this visual reminder should challenge those of us engaged in ministry to assess the role we actually allow prayer to play in both the execution of our daily duties as well as discerning the Lord's vision for the long term. The particular reflection in this instance would not be as much about our prayer for others as for ourselves. Considering the weighty demands of the ministry, do we view prayer as a soul-strengthening opportunity or time-consuming obligation? Just what is its purpose? Do we pray with passivity and generality or with intentionality and specificity as did Father Abraham's eldest servant in Genesis 24:12-14, when sent on a mission to search out a wife for Isaac. Did that selection bathed in prayer carry with it a significance extending beyond its immediate historical context? Indeed! That bride would be the ancestral grandmother of King David and eventually of Messiah Himself.
Should you be seeking encouragement as to how to make or keep prayer an essential ingredient for your ministry, I invite you to join me at one of our remaining 2017 conferences or gatherings, continuing with the theme, "In Everything by Prayer", based on the Apostle Paul's exhortation to the brethren in Philippians 4:6. At these venues, you will hear uplifting messages that engage the issue and challenge you to that end. A time of worship, holy service of ordination and licensure, as well as fellowship and refreshment with new members and old friends, will also be part of the occasion. For a schedule of our events, simply click here! To meet the nine ordinands and one licensee received into membership at the second of these for the year, our Canadian National Conference, Wednesday, May 17, at Redeemer University in Ancaster, Ontario, near Hamilton, continue to scroll down this column to view their group photo.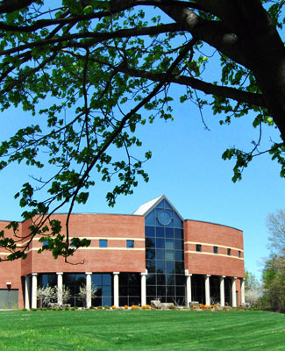 Redeemer University College
The next of our events for 2017 is the International Conference, to be held Tuesday through Thursday, July 18-20, at the beautiful Sheraton Charlotte Airport Hotel, located next to the airport in Charlotte, North Carolina, and less than four miles from the famous Billy Graham Library. The occasion will offer an opportunity for rich fellowship with friends and family. For schedule and registration information, click on the associated link towards the top of this page.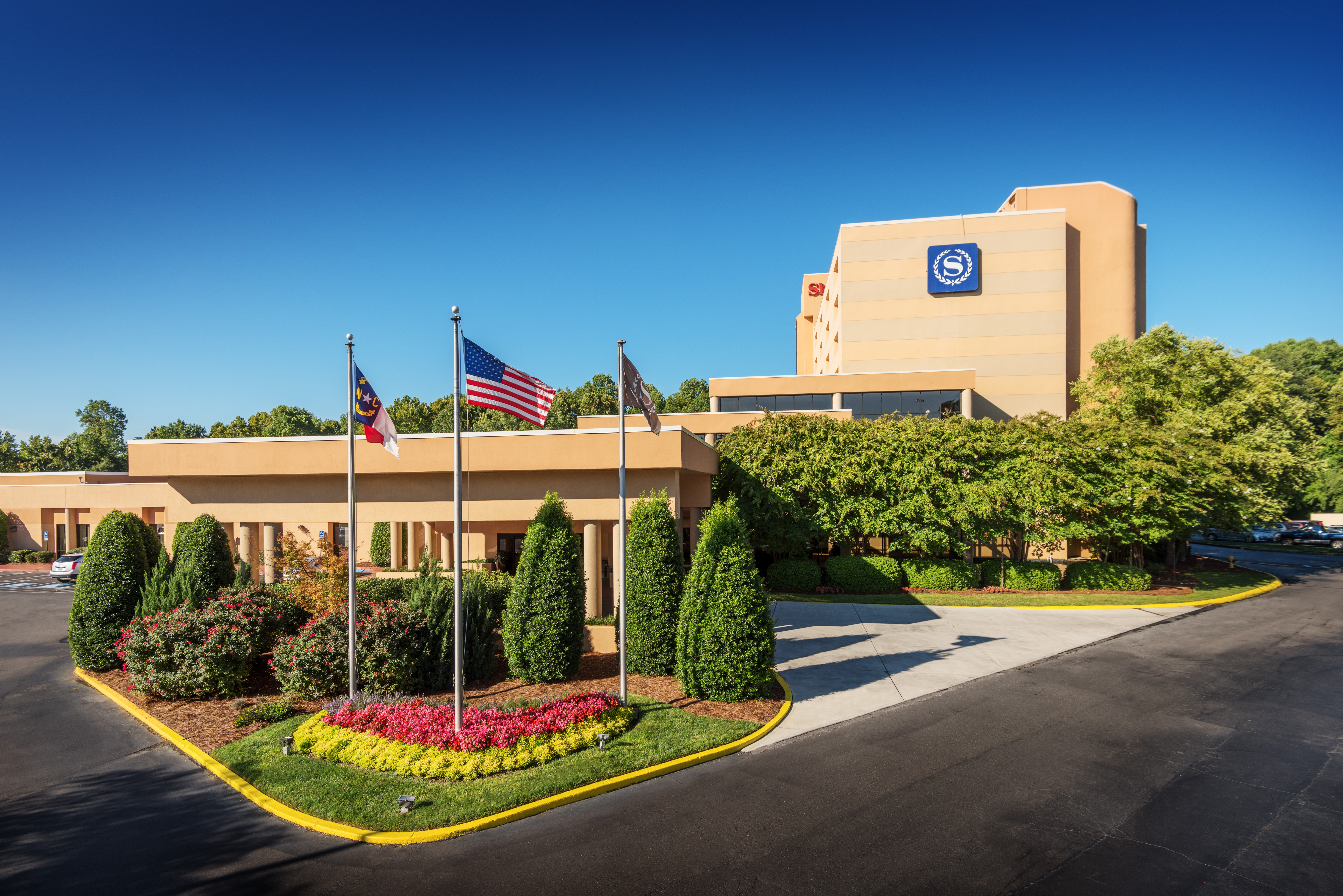 Sheraton Charlotte Airport Hotel
I look forward to seeing you there on location. May the Lord make a way should you wish to attend.
-Bob Turrill
---
Welcome New Members Received Over the Past 12 Months!
Canadian National Conference
May 17, 2017
Ancaster, Ontario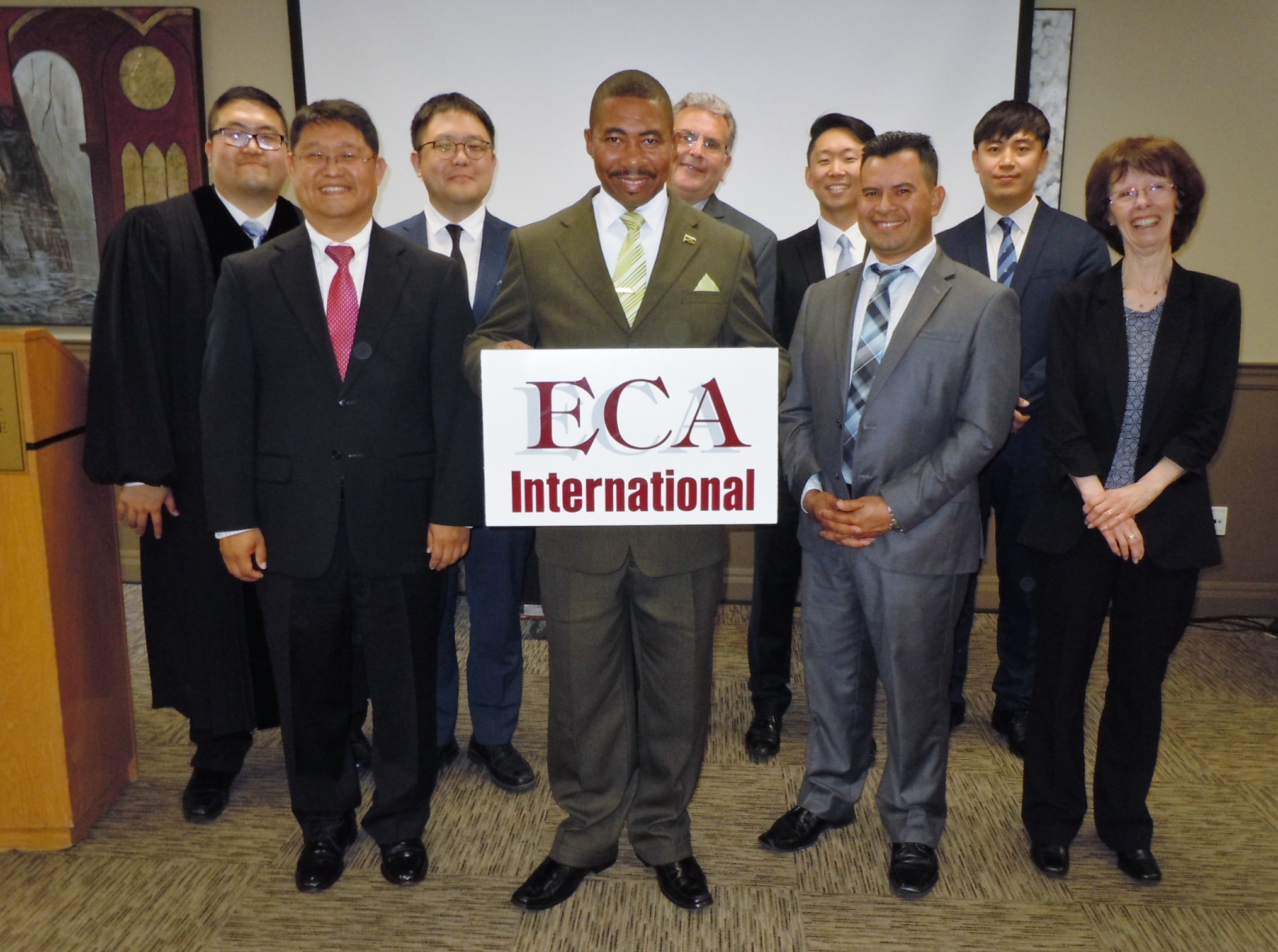 Winter Gathering
February 18, 2017
Goodyear, Arizona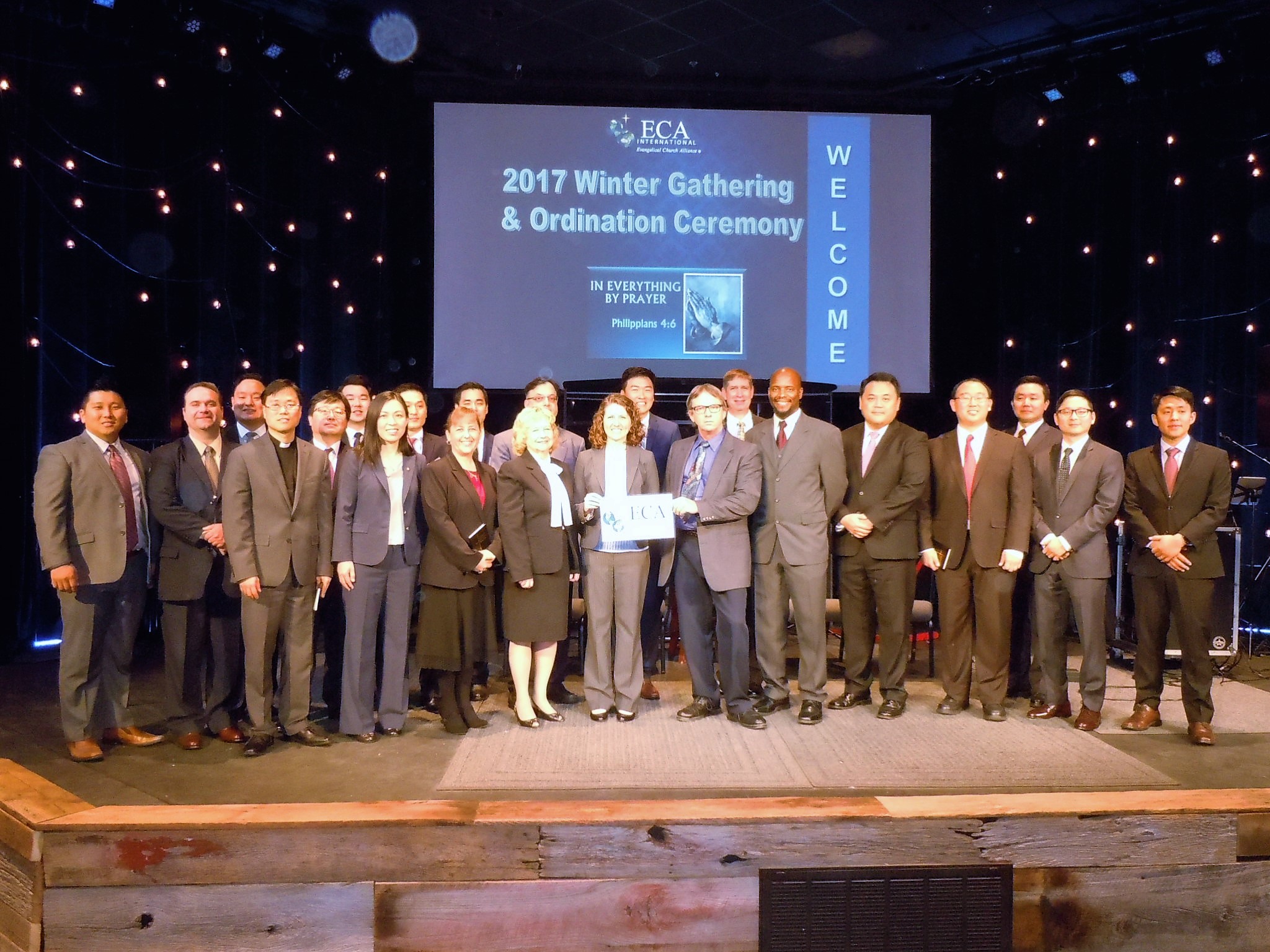 Year-End Gathering and Ordination Ceremony
December 2, 2016
Bourbonnais, Illinois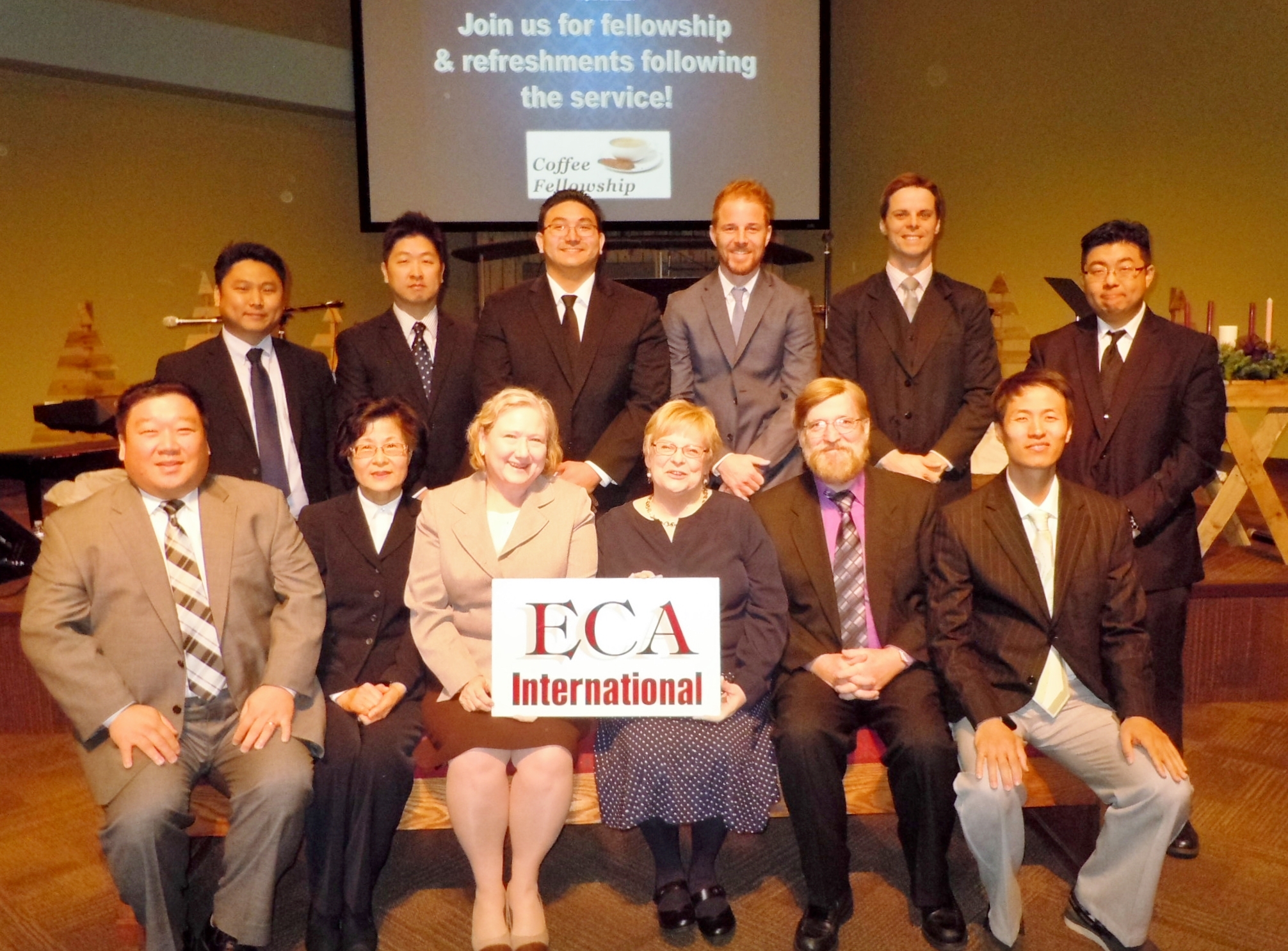 Fall Gathering
October 15, 2016
Sewickley, Pennsylvania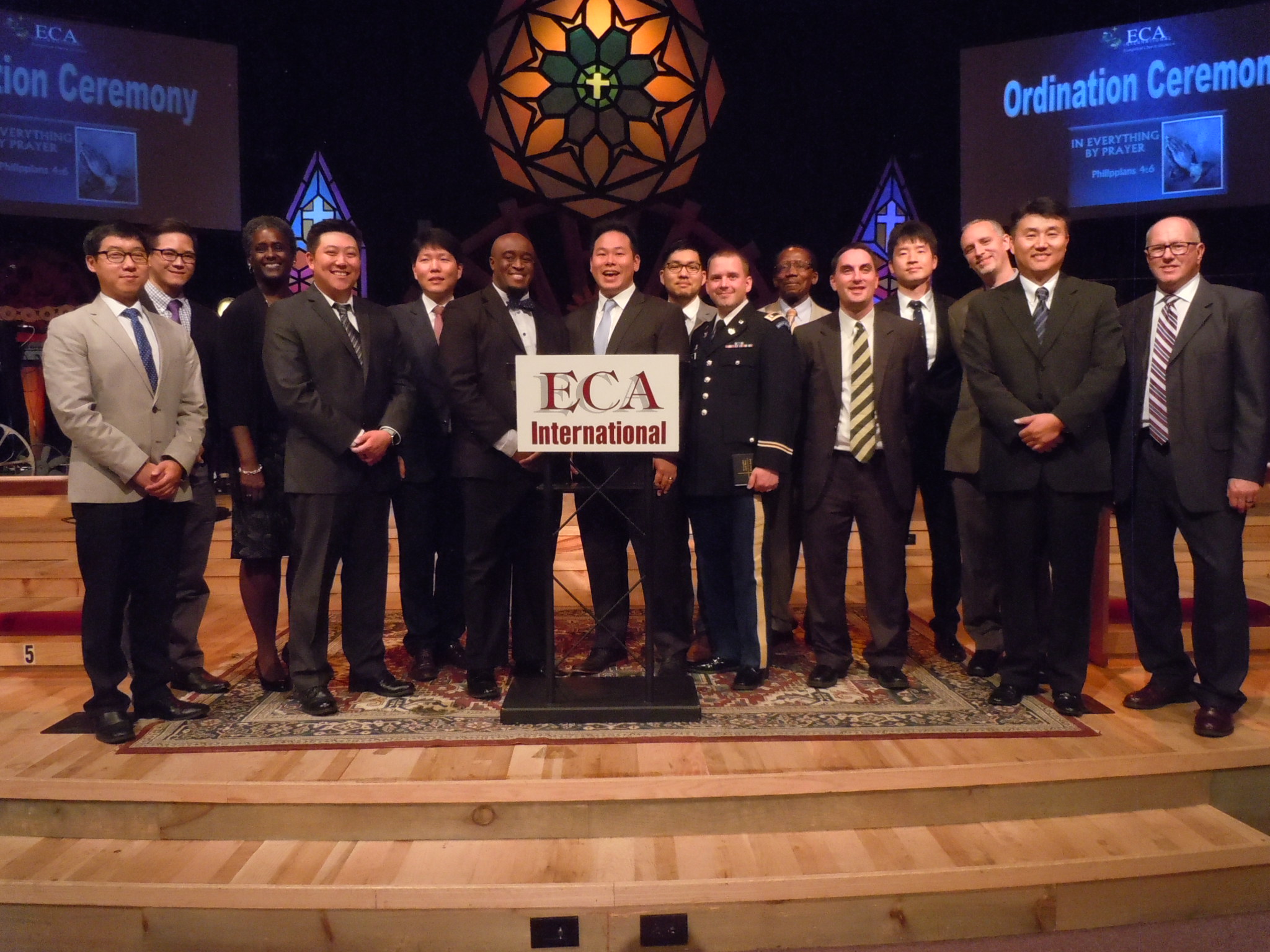 International Conference
July 19-21, 2016
Northbrook, Illinois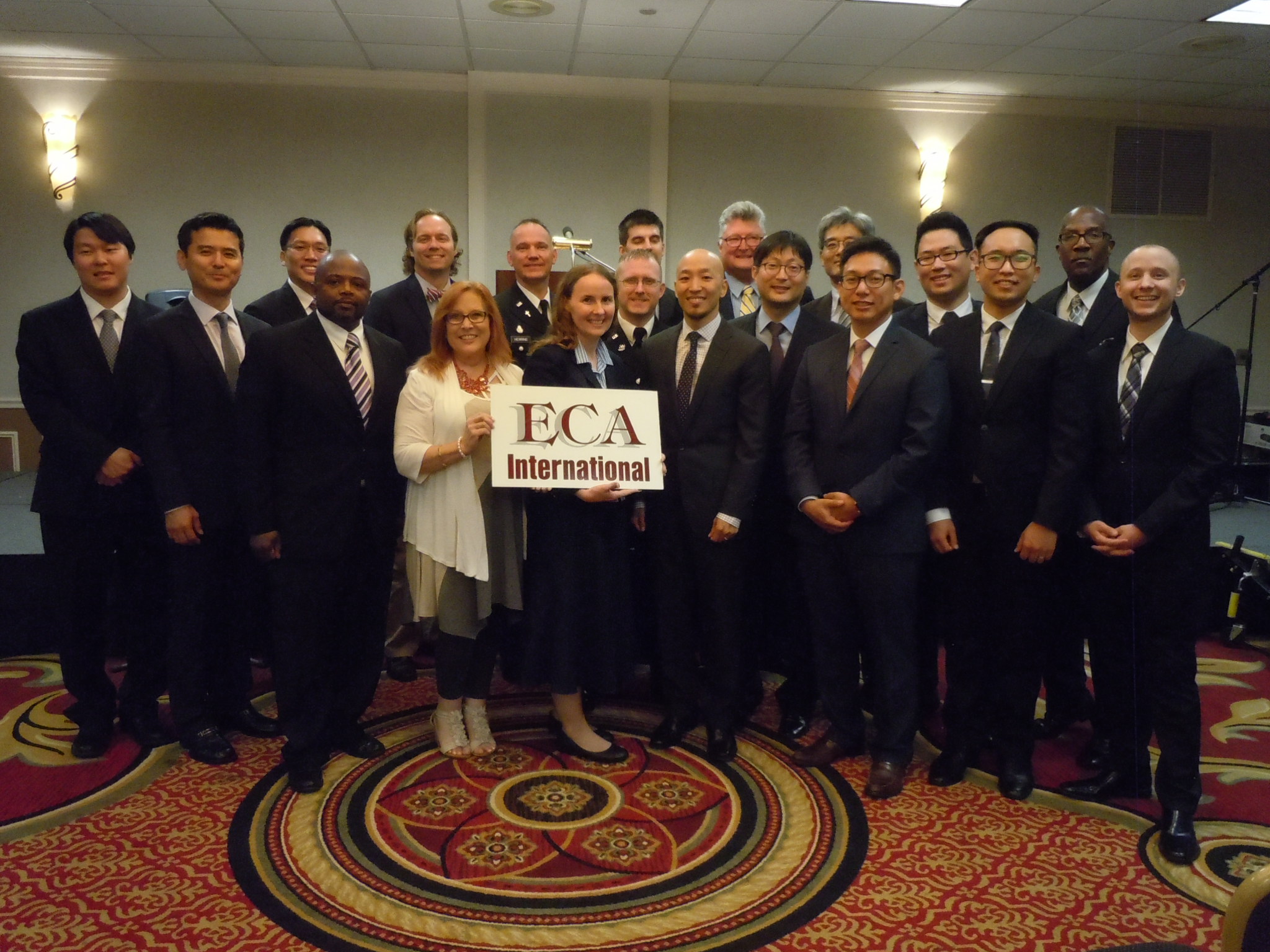 Highlights of Former ECA Annual Conferences
For highlights of former ECA Annual Conferences, the session recordings are available for download on the left hand margin of the Events page.
---

Rev. Elmon Krupnik, Ph.D., ECA Military Chaplain Commission Chairman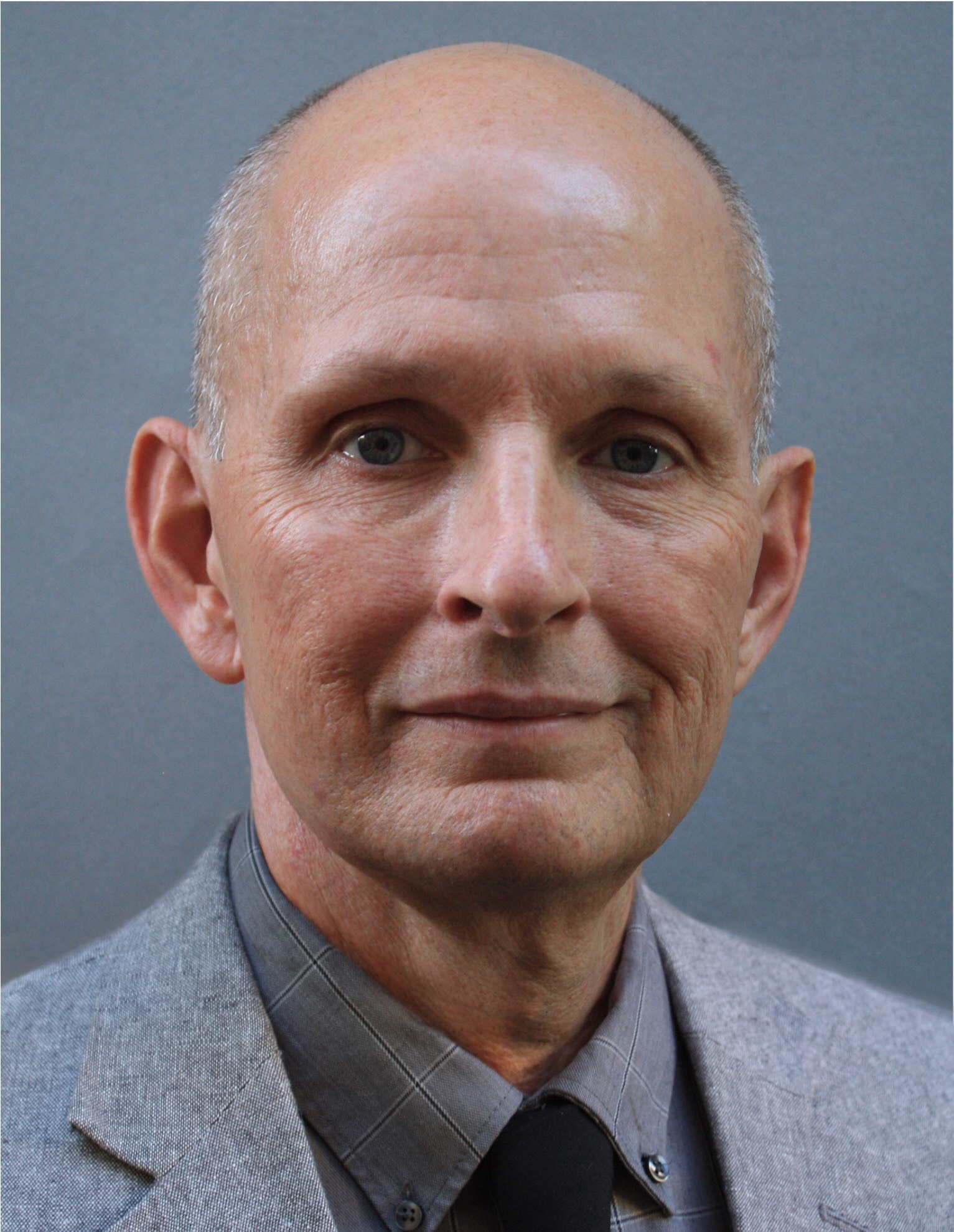 MILITARY, CIVIL AIR PATROL, VETERANS ADMINISTRATION & FEDERAL PRISON CHAPLAIN MEMBERS & ASSOCIATES NEWS
---
ECA Recognizes May 10, 2017 Graduation of CH (LTJG) Michael A. Lanz from Naval Chaplaincy School April 14, 2017 at Fort Jackson, South Carolina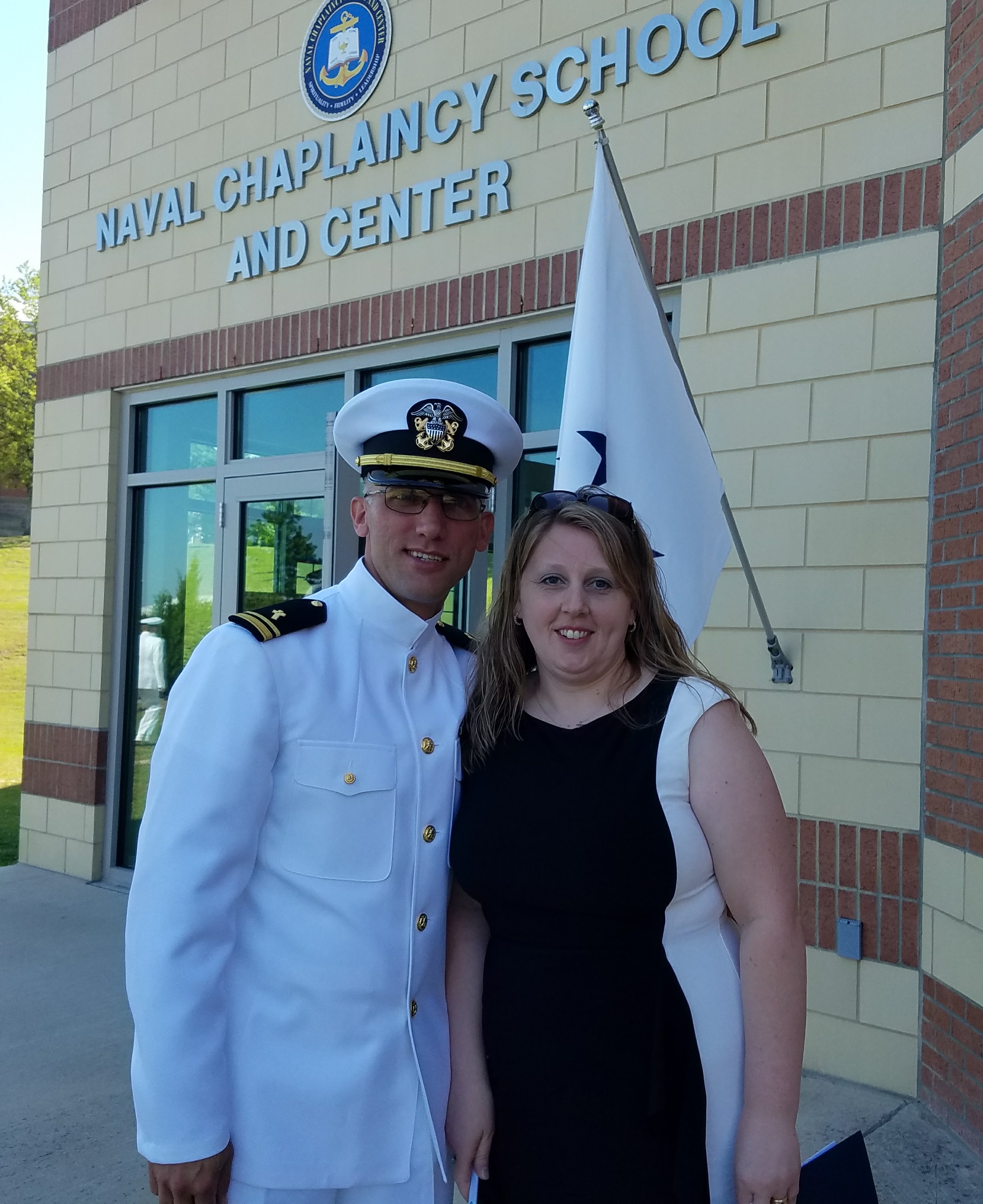 Chaplain Lanz with wife, Kimberly
---
ECA Celebrates April 14, 2017 Graduation of Two Members and One Chaplain Candidate From U.S. Army Chaplain Basic Officer Leader Course at Fort Jackson, South Carolina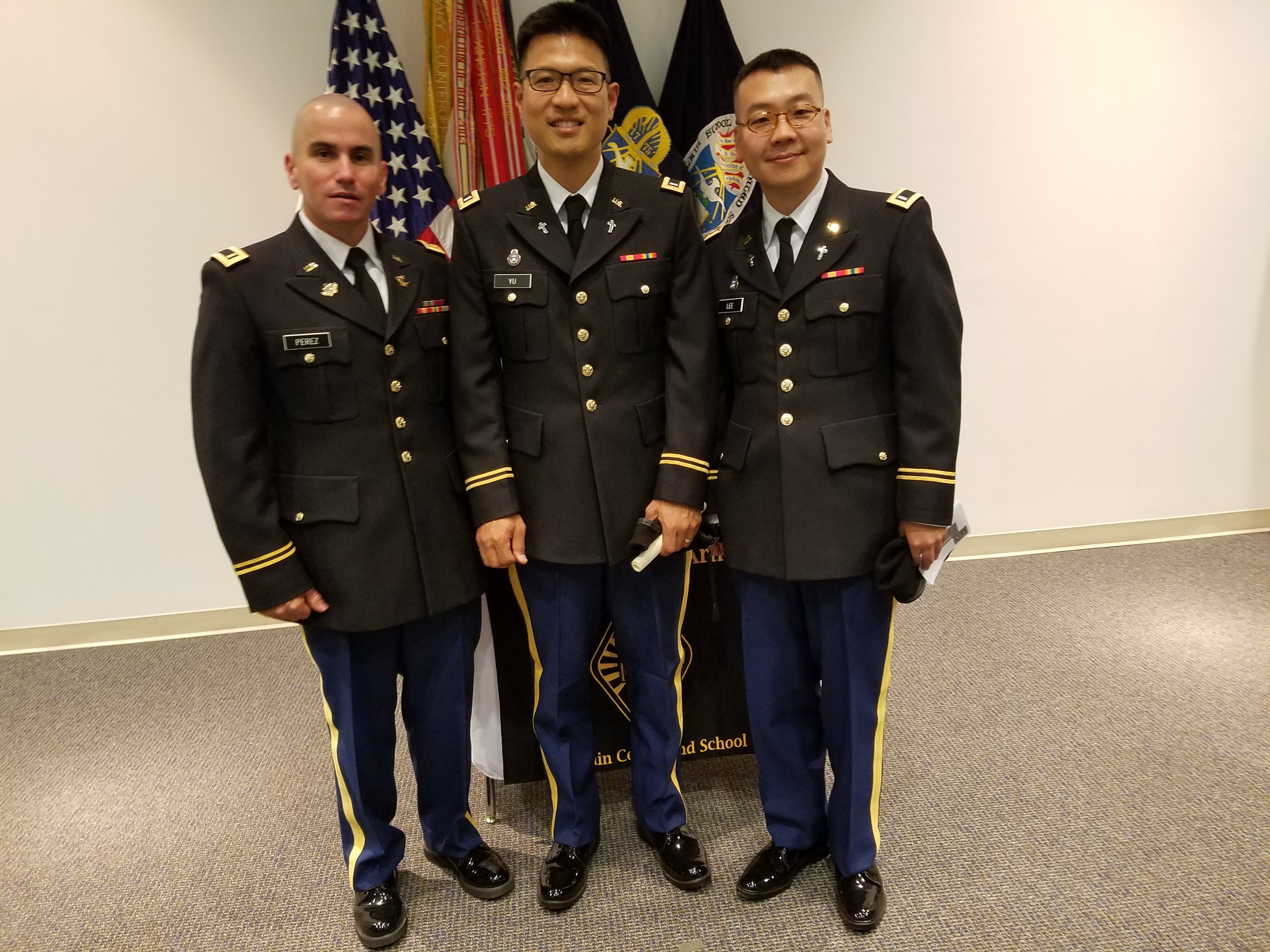 (l. to r.) Chaplain Candidate 1LT Victor David Perez, CH (1LT) Se Jun Yu and CH (1LT) Kyung Mok Lee

Chaplain (LT COL, RET) Gregory Estes, a member of the ECA's Military Chaplain Commission and International Board of Directors, attended the ceremony.
_____________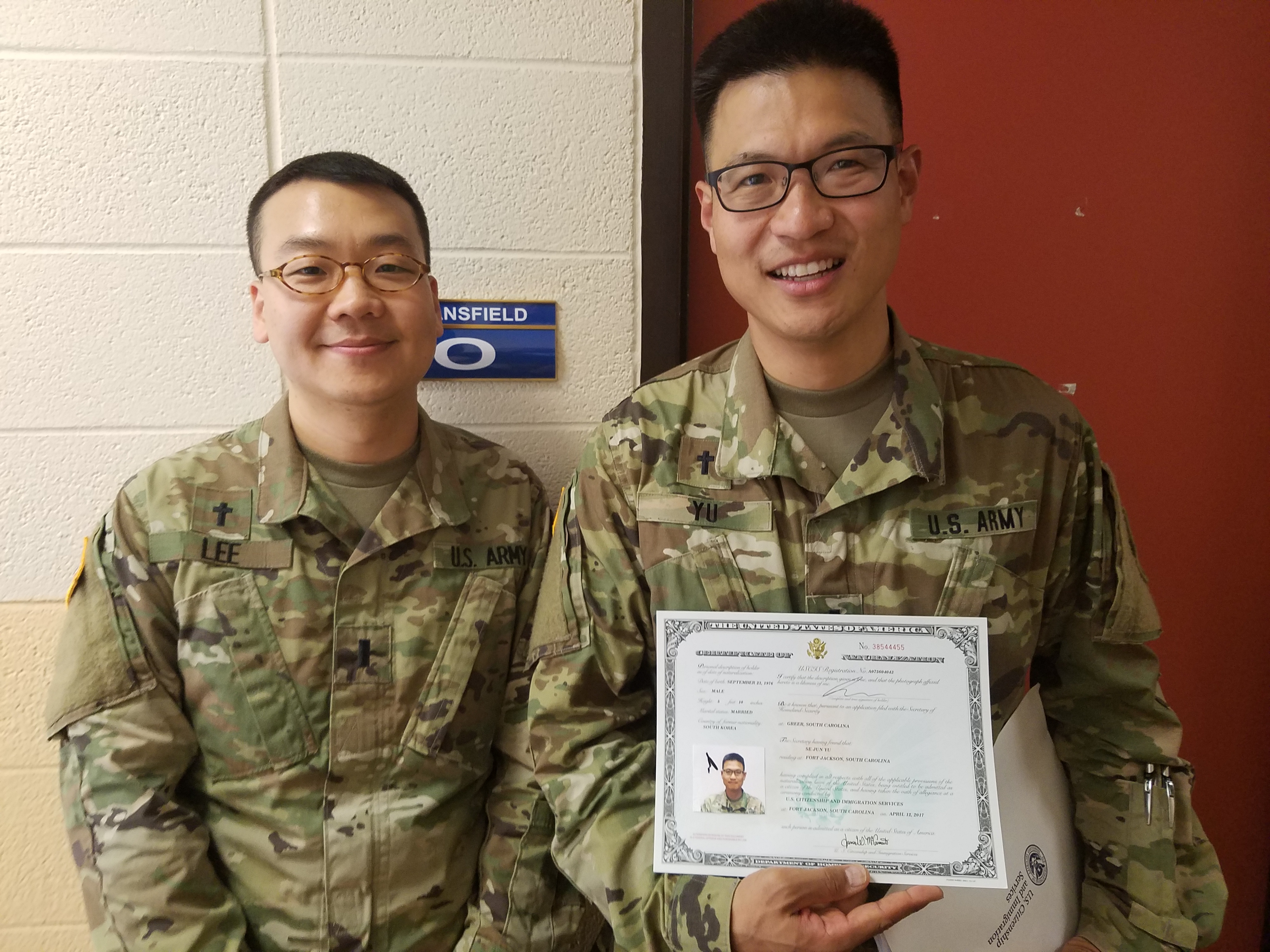 Chaplain Yu naturalized (through the Department of Homeland Security) April 13, 2017 with Chaplain Lee slated for naturalization the next week
---
ECA U.S. Army Chaplain (CPT) Harold W. Morris
Conducts Baptismal Service,
March 27, 2017, at Camp Taji, Iraq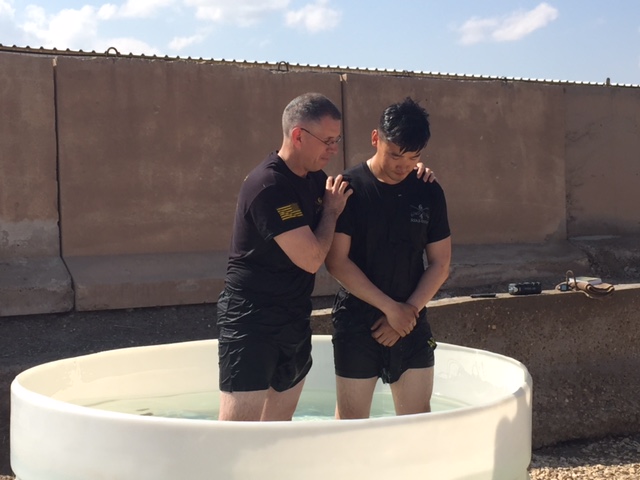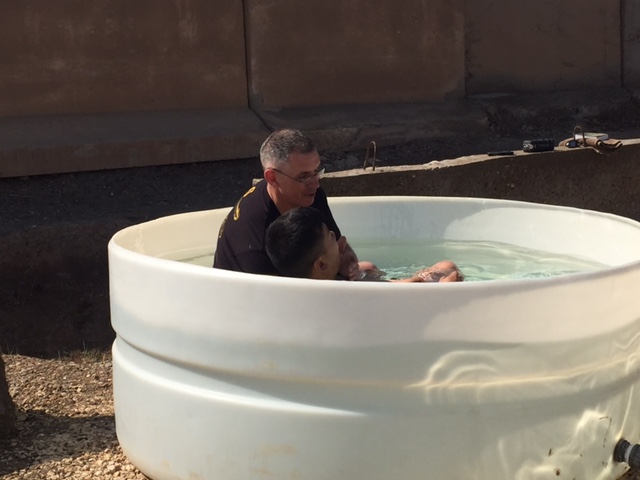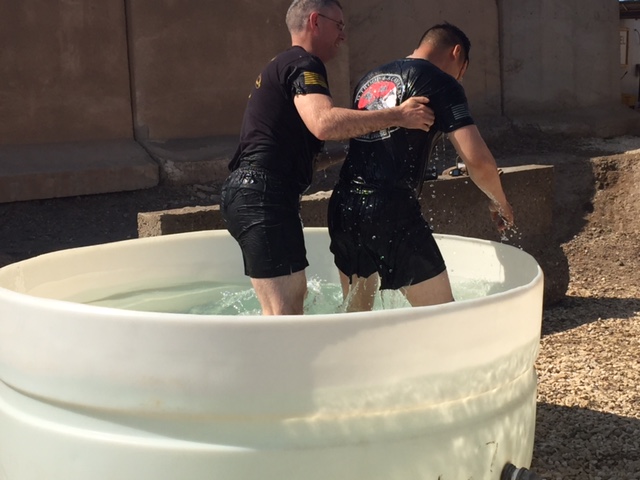 The soldier being baptized grew up in China, came to America to attend college and joined the U. S. military to serve the nation. Praise the Lord for Chaplain Morris's ministry to our troops!
---
U. S. Marine Corps ECA Chaplain (LCDR) Philip N. Park Recipient of 2016 Marine Force Command (MARCOM) Professional Naval Chaplaincy Excellence Award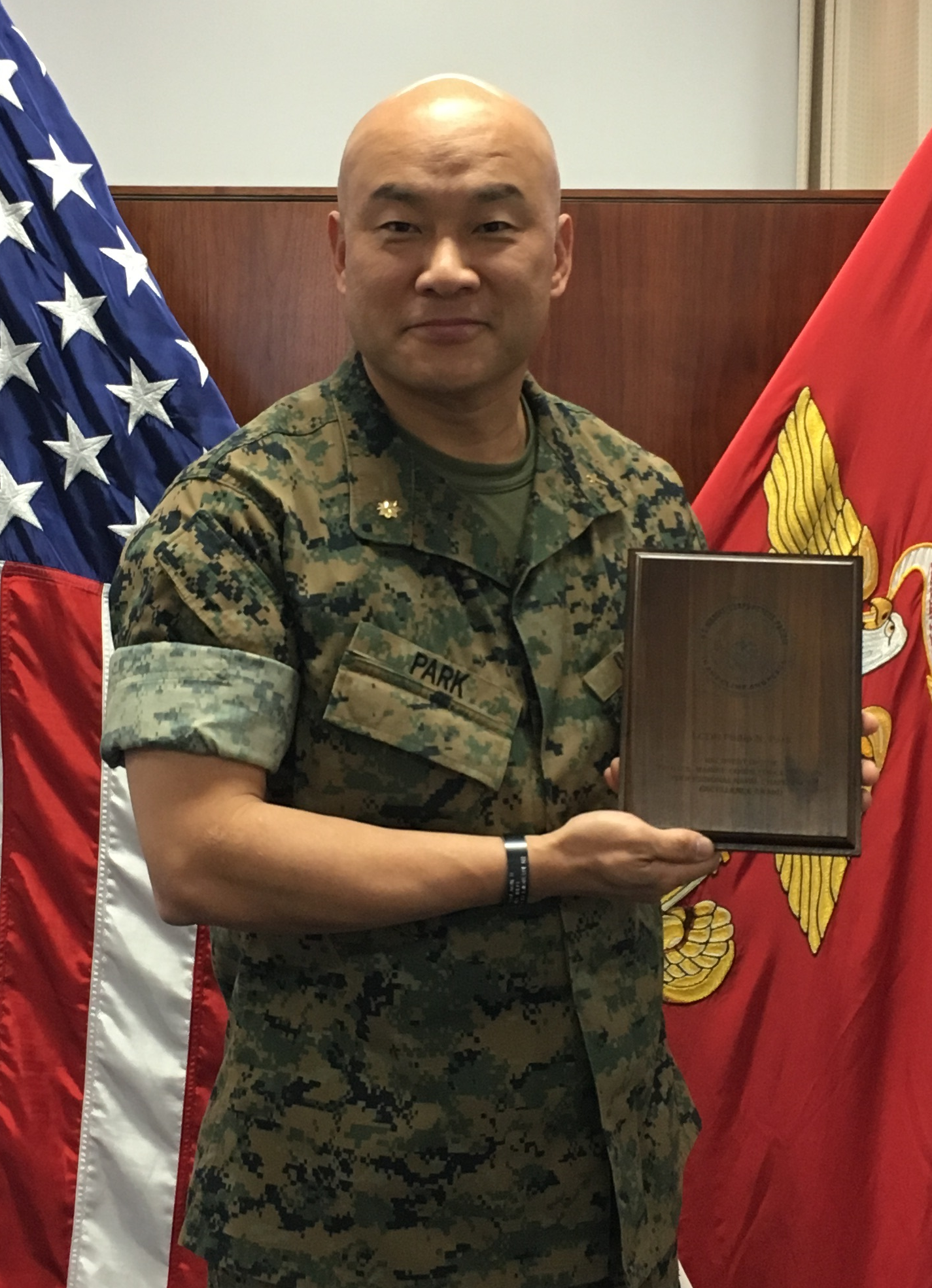 Chaplain Park holding award plaque
MARCOM, which each year selects one chaplain to honor as Chaplain of the Year, bestowed the award upon Chaplain Park March 21, 2017. An associated letter of commendation from the Commander, U.S. Marine Corps Forces, Pacific, acknowledged Chaplain Park's "displaying superior talent, exceptional professionalism, and boundless energy and enthusiasm". The letter also cited, "As a Religious Ministry Expert, your dedication and esprit de corps was unmatched and materially contributed to your Command Religious Program and to the reputations of the reputations of the U.S. Marine Corps Forces, Pacific, the Navy Chaplain Corps, and the Navy and Marine Corps team at large."
Congratulations Chaplain Park!
---
The ECA's U.S. Air Force Reserve Chaplain 1st Lieutenant Armondo L. Jackson Accessioned March 6, 2017 With His Pastor, Retired Navy Chaplain Walter M. Brown, Jr., Administering Oath of Office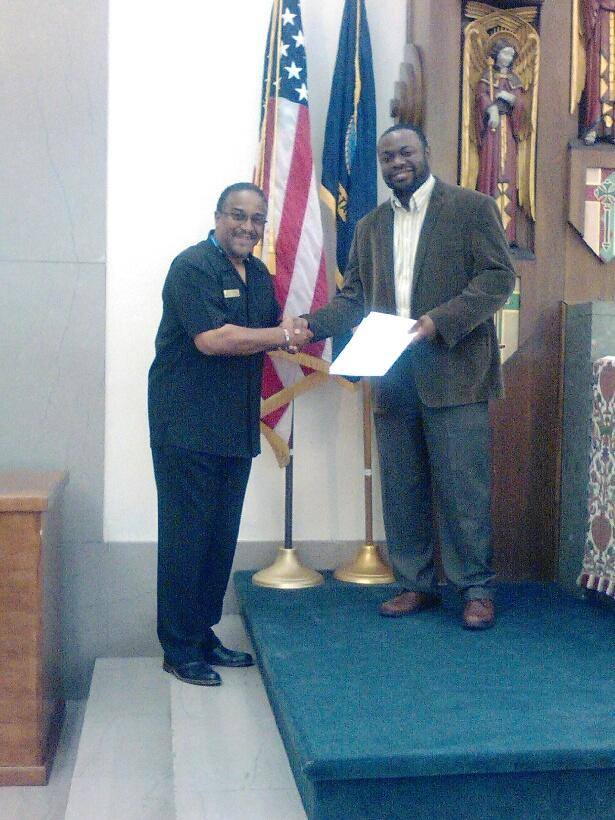 CH(1LT) Jackson (r.) with Pastor Brown at ceremony
Congratulations Chaplain Jackson!
---
The ECA's CH (Lt. Col.) Rick Blank, Air Force Veteran of 248 Combat Missions, Now Deputy Command Chaplain, California State Military Reserve (CSMR)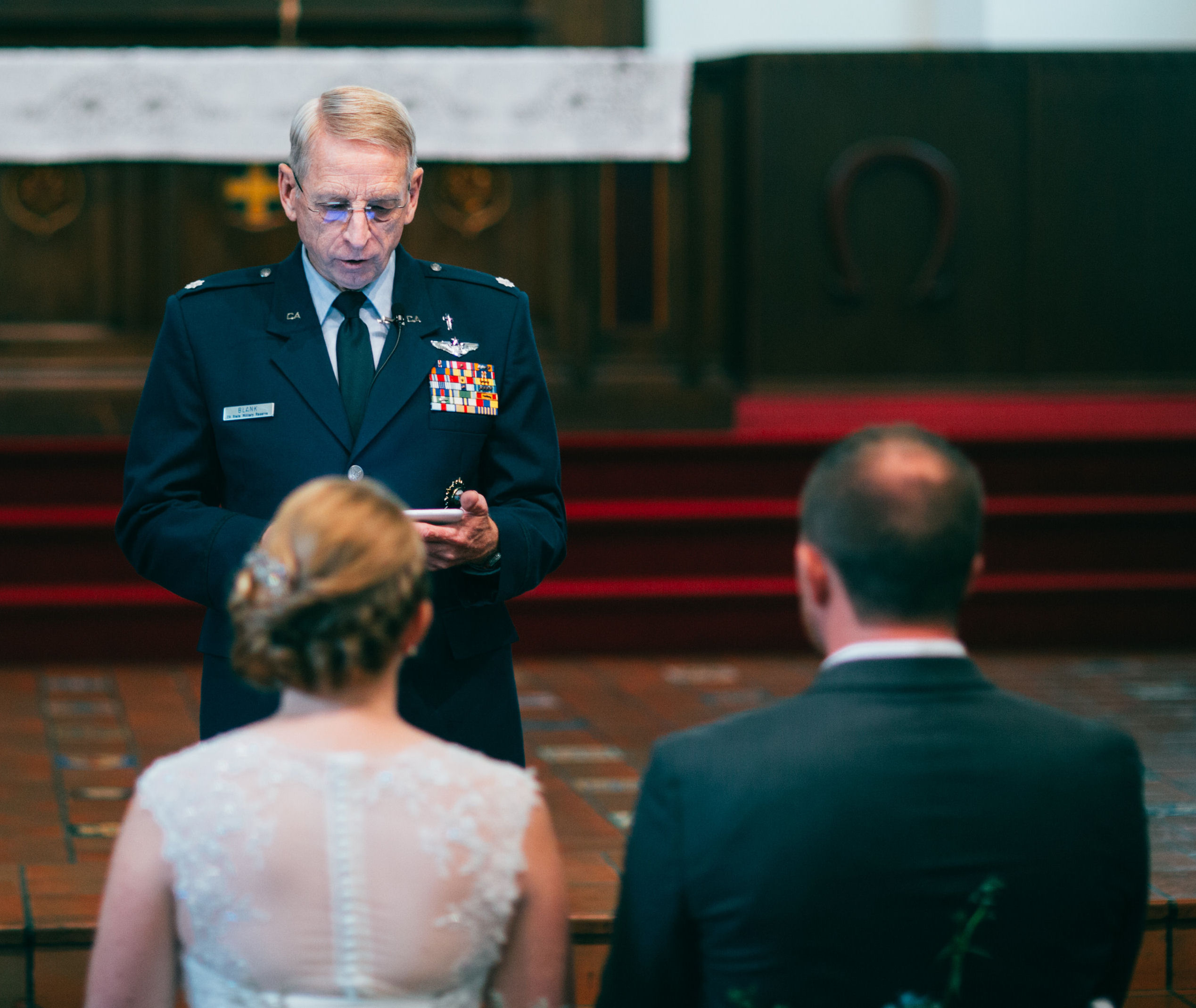 Chaplain Blank officiating a wedding ceremony
Most unexpectedly, as the Lord would have it, Chaplain Blank met a soldier, that as it turns out, he unknowingly defended from his F-4 Phantom during a battle 46 years earlier. The soldier was actually Sp4c. Michael John Fitzmaurice, who received the Congressional Medal of Honor for his heroic deeds that day. You are invited to read Chaplain Blank's following fascinating and detailed account of events surrounding this reunion of sorts he wrote for Grizzly, the official news magazine of the California National Guard:
-------------------------------------------------------------
March 23, 1971, and January 18, 2017. How are these dates connected?
Let me tell you. I was on quick reaction Gunfighter alert duty at Da Nang AB Vietnam on March 23, 1971. (To continue reading this article, click here.)
---
ECA 's Chaplain (Major) Jeffrey L. Brooks, USA (Retired), Authors Supportive Devotional for Boot Camp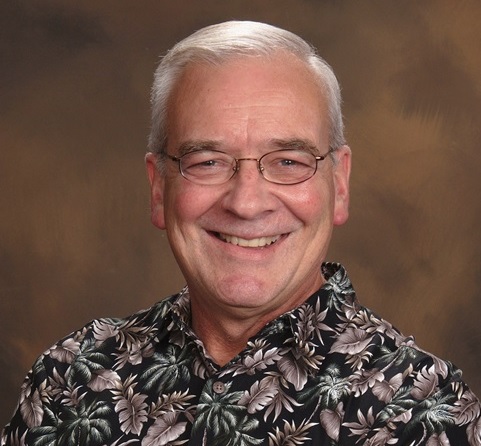 Chaplain Brooks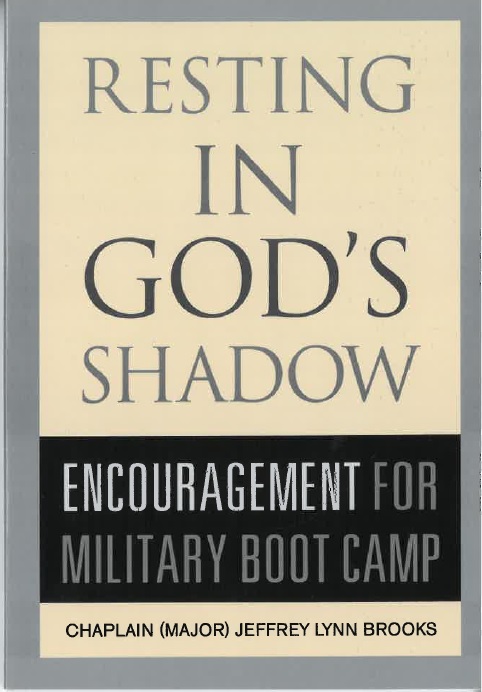 The devotional
Congratulations Chaplain Brooks on the occasion of this labor of love!
---
The ECA's Rev. Thuan Domski, Hospital Chaplain and Civilian Military-Chaplain Assistant, Produces and Directs Biblical Play to be Performed at Joint Base McGuire Dix Lakehurst Chapel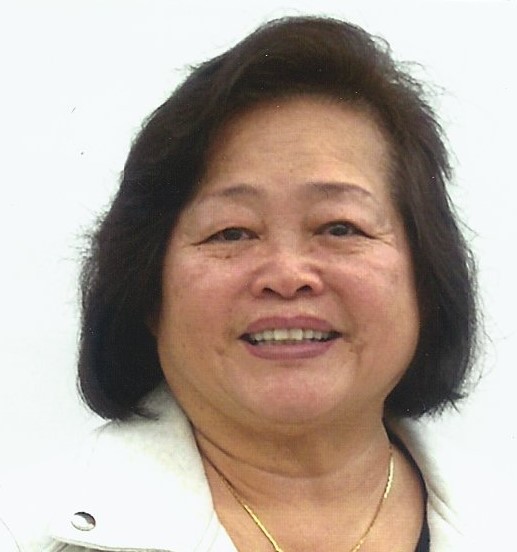 Chaplain Domski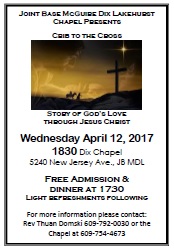 Chaplain Domski also preaches at the chapel in addition to her other duties there. Besides hospital chaplaincy responsibilities, her labor of love also includes leading services at a nursing home.
---
The ECA's Rev. George Pickard, a Veteran Ministering to Fellow Veterans through Celebrate Recovery's "Welcome Home" Initiative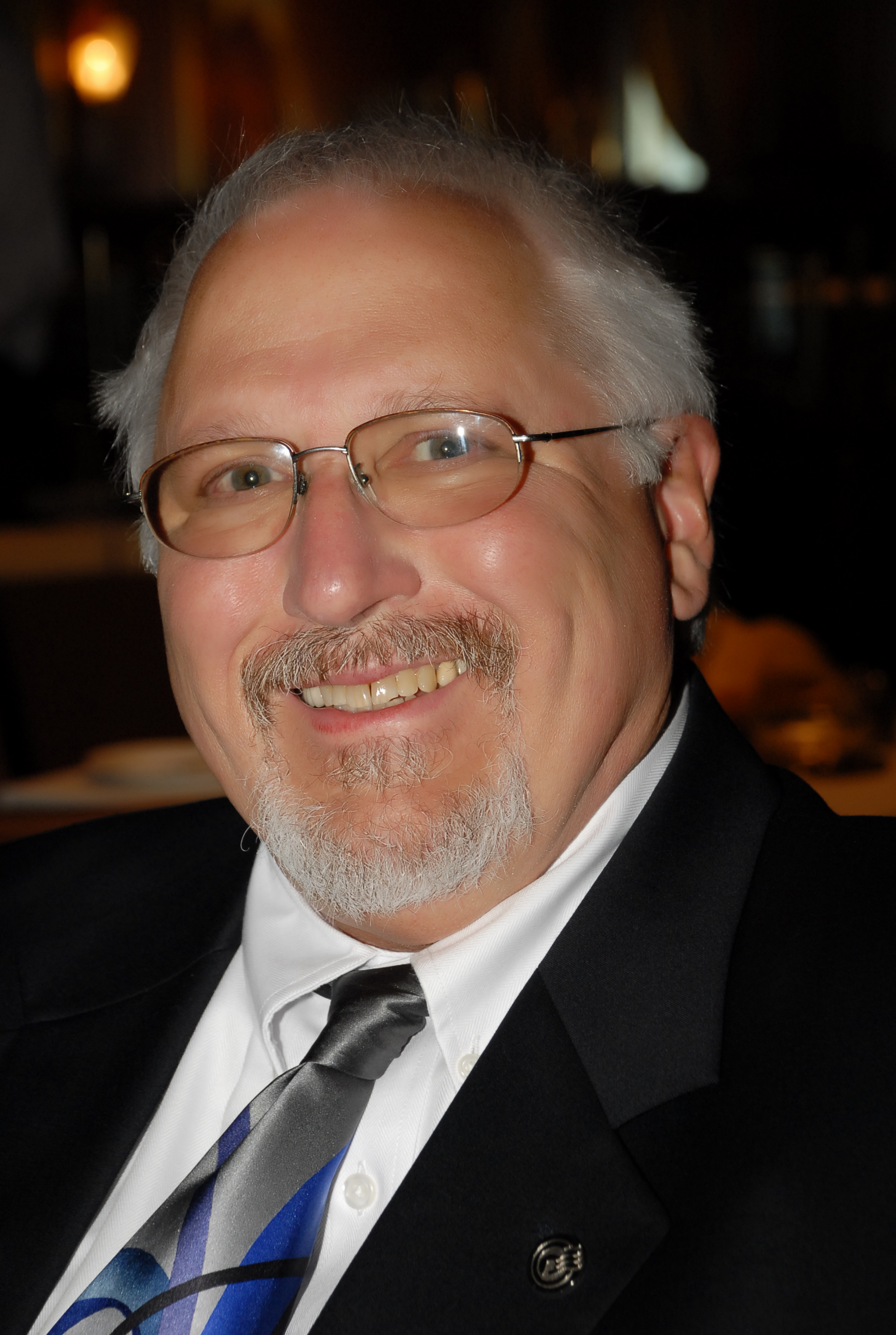 AWARENESS:
Putting on the Armor of Light
By Chaplain George Pickard


Celebrate Recovery (CR) is a biblical and balanced program that helps us overcome our hurts, hang-ups, and habits. During 2016, CR celebrated its 25-year history of success helping all people in need to recover. Well, we all sin and fall short due to our human sin nature, this means all of us – that's you and me. Last year CR announced that it was taking on four giants: 1. Human trafficking of women and children, 2. Native Nations, 3. Mental Health, and 4. "Welcome Home." (To continue reading this article, click here and scroll down on the page that appears to "Rev. George Pickard article (continued)")
---
Dr. Krupnik's Current Graduate Level Marine Corps Command and Staff College Seminar Class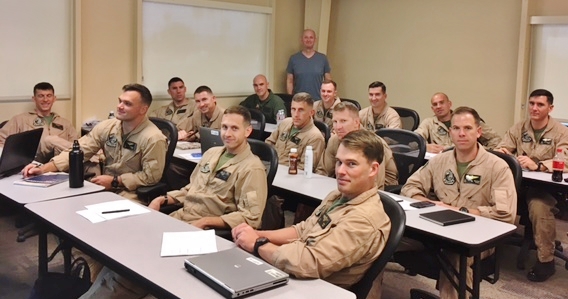 Dr. Krupnik (standing)
Please remember to pray for all our service members and their families.
---
The ECA's Chaplain (LTC) Lawrence M. Dabeck, U.S. Army Active Duty, hosts Dr. and Mrs. Turrill for January 17, 2017 Grand Tour of Pentagon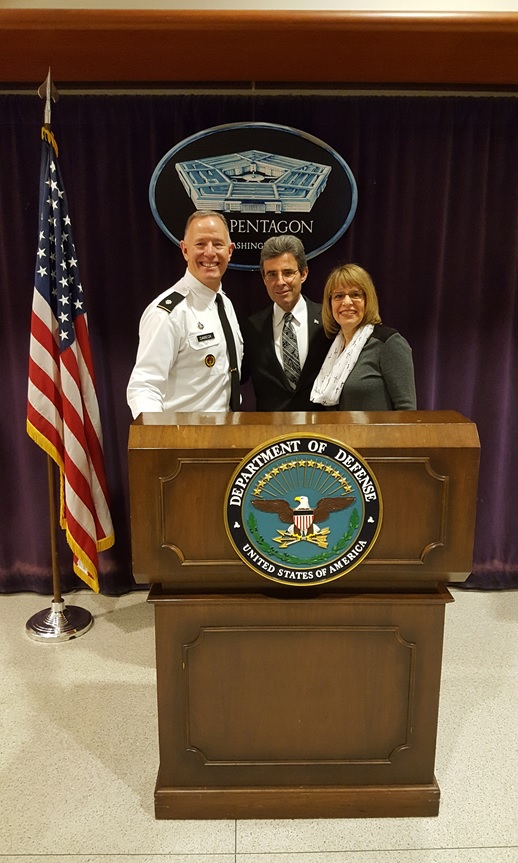 Dr. Turrill flanked by Chaplain Dabeck and Jane Turrill, who serves as Military Chaplain Commission Assistant among her other responsibilities at ECA headquarters

Citing an article entitled "From CIU to the Pentagon" by Columbia International University (CIU) from which Lieutenant Colonel Dabeck received his Master of Divinity, he is "deputy joint staff chaplain, the number two chaplain for the Joint Chiefs of Staff at the Pentagon, supporting 3000 military chaplains who are serving one million active duty service members." To read this most informative article in its entirety, click here.
Thank you, Chaplain Dabeck, for your hospitality!
---