"But He was wounded for our transgressions, He was bruised for our iniquities; the chastisement for our peace was upon Him, and by His stripes we are healed." (Isaiah 53:5)
---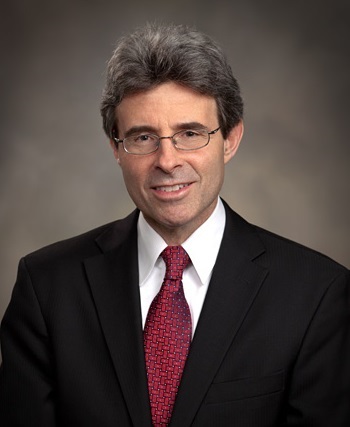 Thank you for visiting our website! Whether a member, candidate or inquirer, I trust you will find it to be a helpful resource. To begin, I would invite you to explore our Membership News articles immediately below.
Appreciatively in the Lord,
Dr. Robert H. Turrill
President & CEO
Evangelical Church Alliance
Num. 6:24
---
ECA's Dr. Sotar Alphonso-Lloyd Ministers to the Lemba in Zimbabwe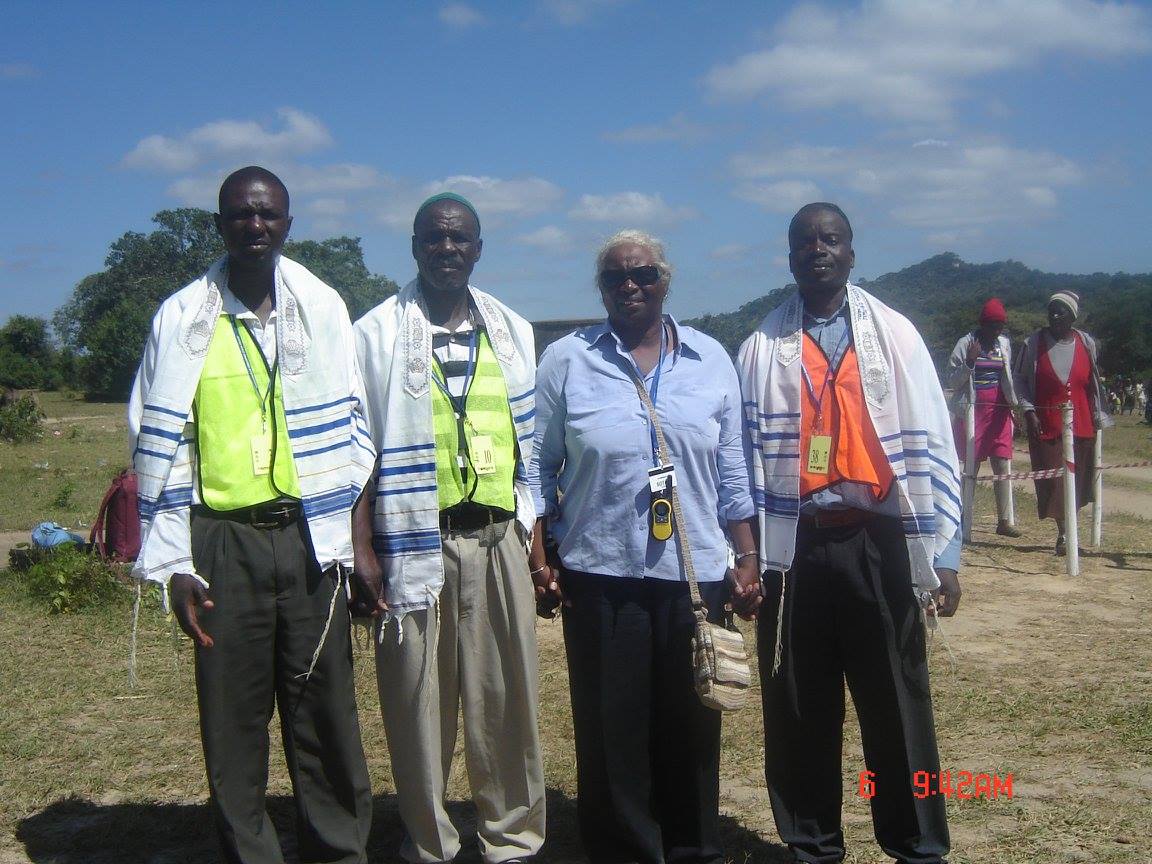 Dr. Alphonso-Lloyd with Lemba representatives
From April 7-17, 2016, Dr. Sotar Alphonso-Lloyd traveled on a medical mission trip with Jewish Voice Ministries International (www.jewishvoice.org). Serving as a chaplain, she ministered to the impoverished Jewish community of the Lemba in Mberengwa, Zimbabwe.
---
Dr. Scott Lemenager, Special Assistant to ECA President, Outstanding Faculty Award Recipient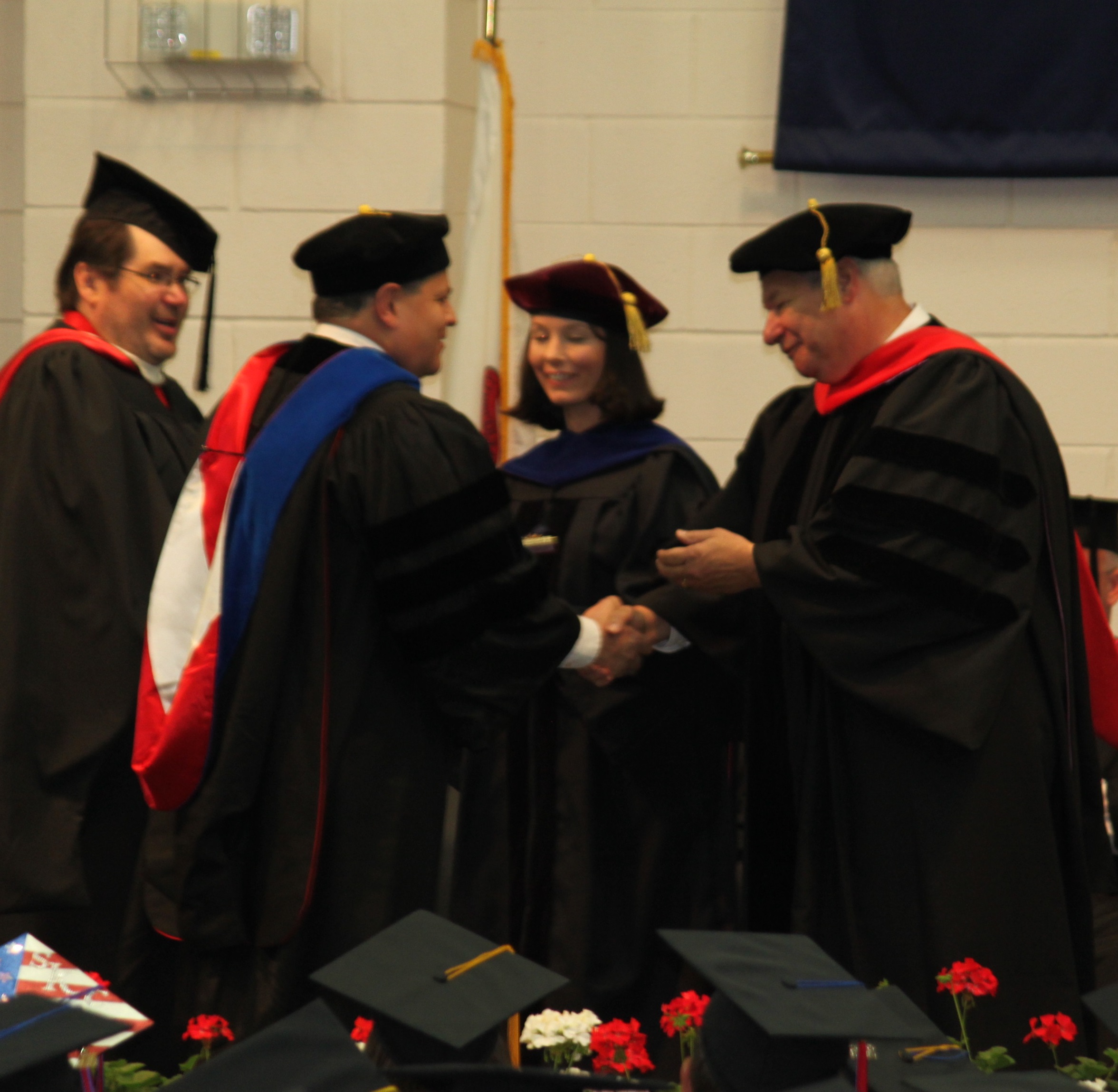 College President, Dr. John Avendano, presenting award to Dr. Lemenager (far right)
A scholar and educator, Rev. Lemenager, Adjunct Professor, Humanities and Social Sciences Division, Kankakee Community College, received the award medallion bearing the words, Outstanding Faculty Member, during the May 14, 2016, graduation ceremony at Kankakee Community College in Illinois. Ordained with the ECA, he has extensive experience as a pastor, church planter, stated clerk of presbytery and servant in the international mission field.
---
Dr. Turrill, Guest of the Honorable Roey Gilad, Consul General of Israel to the Midwest U.S., at May 12, 2016, 68th Anniversary of the State of Israel Celebration in Chicago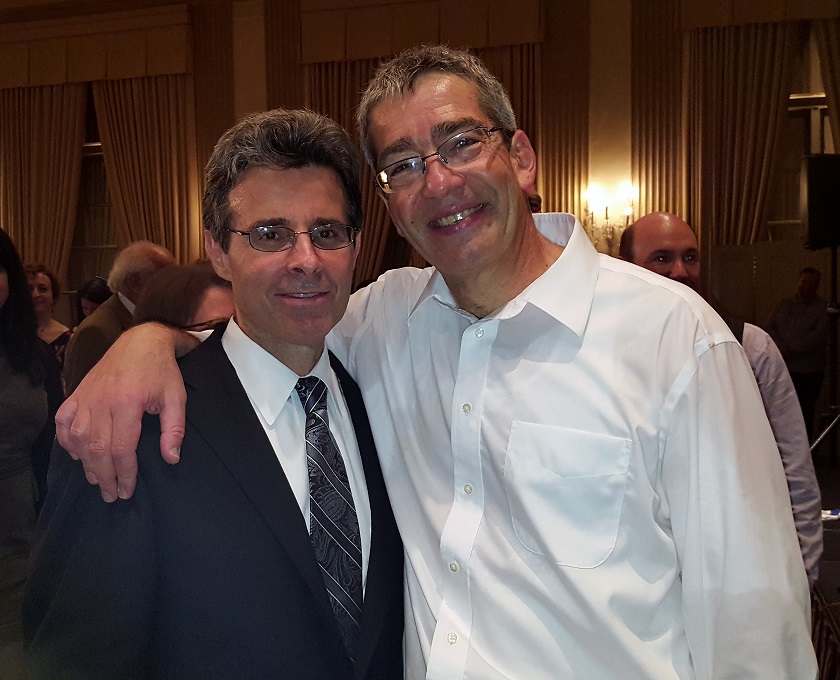 Dr. Turrill with Consul General, Roey Gilad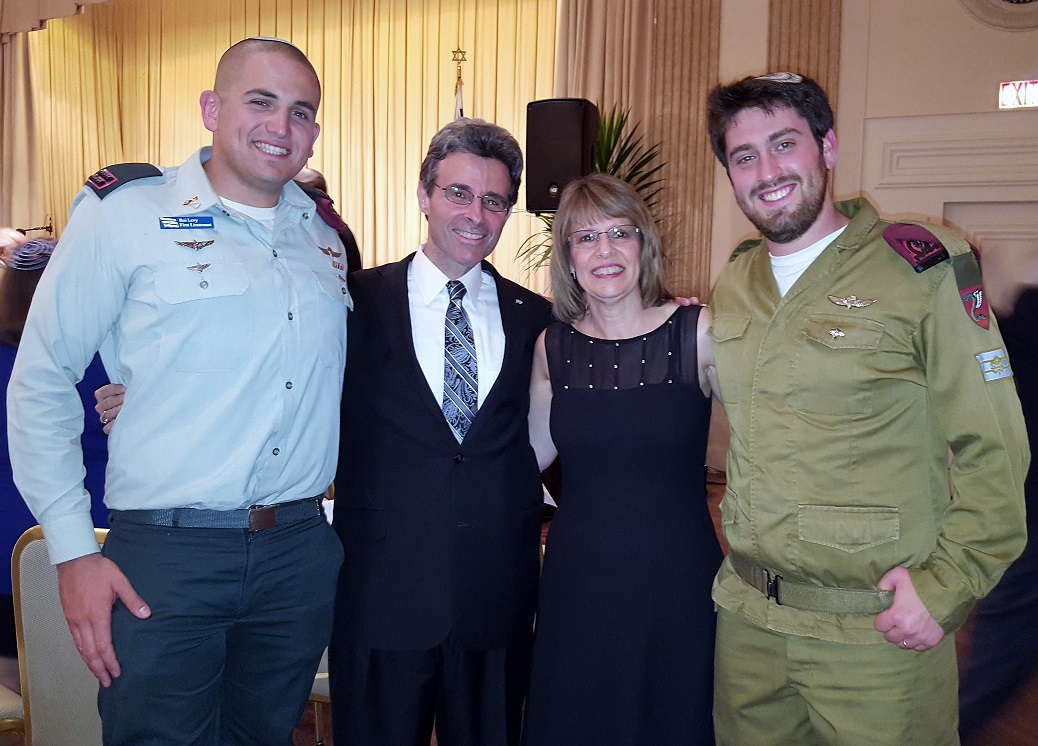 Dr. and Mrs. Turrill with Israeli military personnel
"Pray for the peace of Jerusalem..." (Psalm 122:6)
---
Rev. Joseph Choi Interviewed by Christianity Daily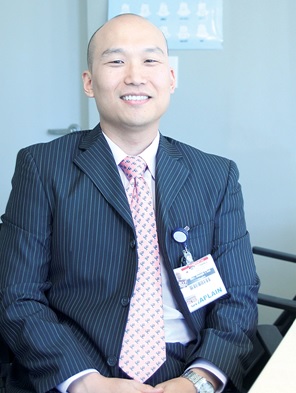 (Photo : Christianity Daily) Rev. Joseph Choi currently works as a hospital chaplain, a U.S. Army Reserves chaplain, and an English ministry pastor.
Recently Christianity Daily interviewed the ECA's Rev. Joseph Choi, who, in addition to his church ministry, serves as a chaplain in both the civilian and military sectors. He also sits on ECA ordination councils. To read Christianity Daily's excellent article about his ministry, click here.
---
Rev. Huntley Brown Installed as Artist-in-Residence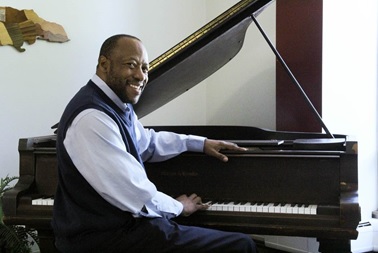 Rev. Huntley Brown
Judson University's Center for Worship in the Performing Arts recently announced the installment of Rev. Huntley Brown as Artist-in-Residence. An ordained minister with the ECA and a member of its Board of Directors, Rev. Brown has toured the globe ministering through God's Word and music as a preacher and world-class pianist, respectively. Having served at home and abroad with the Billy Graham Evangelistic Association, he has played for Ruth Graham and Friends Ministries as well as internationally for Franklin Graham. To read more about his recent appointment at Judson University, click here.
---
Congregation Recognizes the Dr. Donald Raub for 50 Years of Service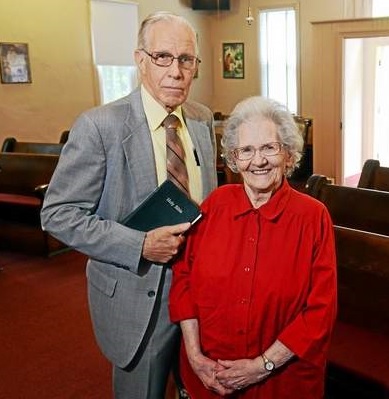 Dr. Donald Raub with his wife, Dolores
Photo by Geoff Patton
East Rockhill Chapel in Quakertown, Pennsylvania recently recognized Dr. Donald Raub, a member of the ECA since 1951, for having shepherded the congregation since 1965. Still faithfully ministering to this flock with his devoted wife and helpmate, Dolores, Pastor Raub faithfully preaches the Word, not his opinion. To view an excellent newspaper article detailing more about his tenure at the church, click here.
---
Rev. Richard Coleman Speaks at February 2015 Wheaton Evangelism Conference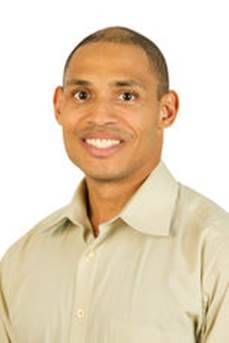 Rev. Richard O. Coleman
Rev. Coleman, Senior Director of Mobilization and Candidacy for The Mission Society, headquartered in Norcross, Georgia, serves domestically and internationally in overseeing the ministry's efforts in recruiting and screening missionary candidates. To hear his powerful message referenced above in which he challenges the popular concept of "fragmentation evangelism", click here.
---
ECA RECEIVES ABUNDANT LIFE FELLOWSHIP IN CHRIST CHURCH AS ASSOCIATE MEMBER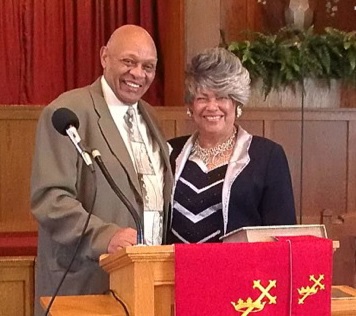 Rev. Roger C. Thomas and First Lady Barbara
The ECA welcomes Abundant Life Fellowship in Christ Church of New Kensington, Pennsylvania, USA into Associate Membership. Co-pastored by ECA member, Reverend Roger Thomas, and his wife, Minister Barbara, this local expression of the body of Christ truly lives its motto, "Reaching the lost at any cost." Committed to preaching of the Gospel from the pulpit and sharing the love of Jesus through community outreach, the church, serving as salt and light to save and edify souls, exemplifies the mission of the ECA. May the Lord be praised.
---
If you are looking for a position, or to fill one, browse our Ministry Opportunities and Offers page.
---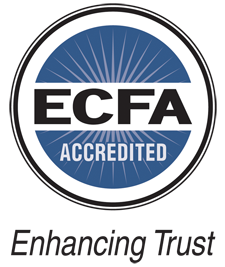 The ECA is a member in good standing of the Evangelical Council on Financial Accountability (ECFA). Our compliance with ECFA's standards gives testimony to our commitment to the highest standards of fundraising and financial management.
---
2016 ECA Events and Theme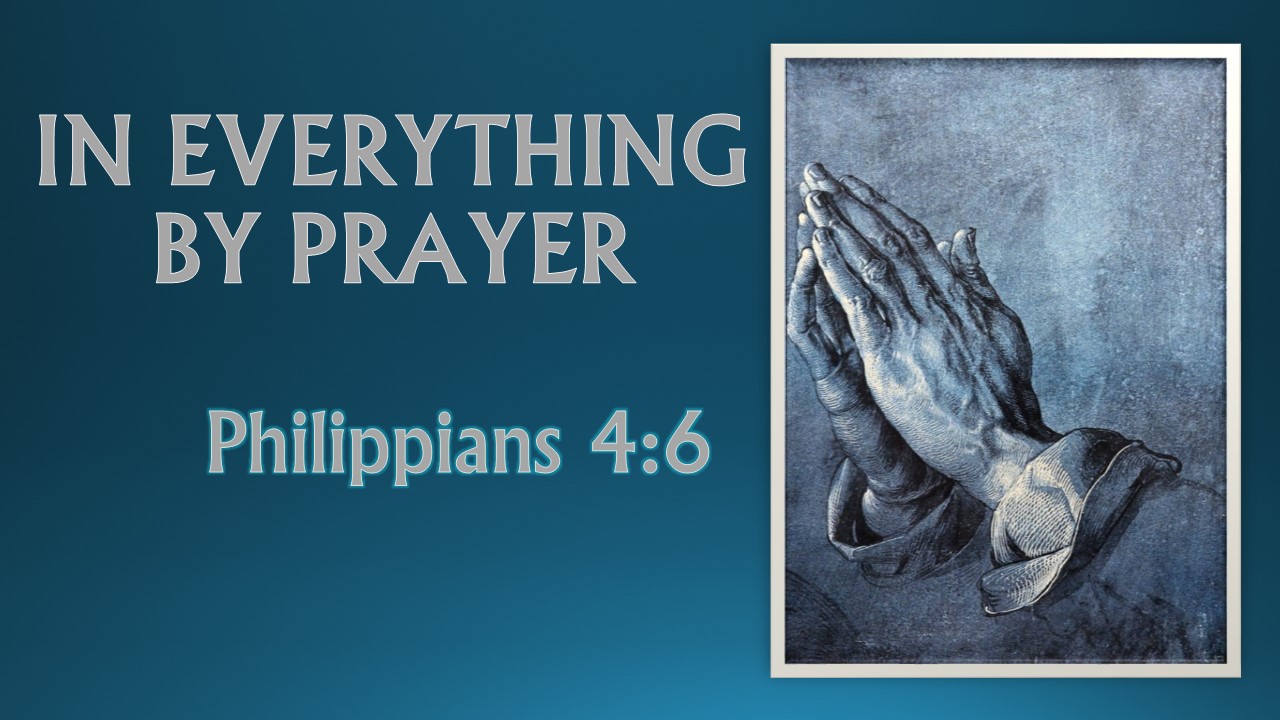 Dear ECA members, candidates and friends:
For centuries the image immediately above of clasped hands, a work conceived by German Rennaissance artist, Albrecht Duerer, has served as a universal symbol for prayer. Perhaps this visual reminder should challenge those of us engaged in ministry to assess the role we actually allow prayer to play in both the execution of our daily duties as well as discerning the Lord's vision for the longterm. The particular reflection in this instance would not be as much about our prayer for others as for ourselves. Considering the weighty demands of the ministry, do we view prayer as a soul-strengthening opportunity or time-consuming obligation? Just what is its purpose? Do we pray with passivity and generality or with intentionality and specificity as did Father Abraham's eldest servant in Genesis 24:12-14, when sent on a mission to seek out a wife for Isaac. Did that selection bathed in prayer carry with it a significnce extending beyond its immediate historical context? Indeed! That bride would be the ancestral grandmother of King David and eventually of Messiah Himself.
Should you be seeking encouragement as to how to make or keep prayer an essential ingredient for your ministry, I invite you to join me at one of our 2016 conferences or gatherings, whose theme for the year is "In Everything by Prayer", based on the Apostle Paul's exhortation to the brethren in Philippians 4:6. At these venues, you will hear uplifting messages that engage the issue and challenge you to that end. A time of worship, holy service of ordination and licensure, as well as fellowship and refreshment with new members and old friends, will also be part of the occasion. For a schedule of these events, simply click here! The second for the year, our annual Canadian National Conference, took place Wednesday, May 18, on the beautiful campus of Redeemer University College in Ancaster, Ontario, near Hamilton.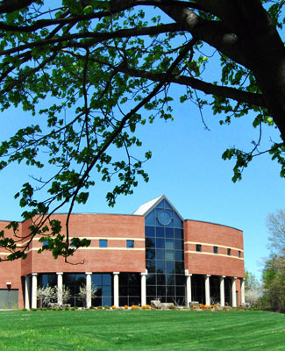 Redeemer University College
To meet those received into membership for the occasion, scroll down this column. Our next event is our annual International Conference to be held in Illinois at the accommodating Crowne Plaza Chicago-Northbrook. Just 14 miles from O'Hare International Airport, the hotel offers shuttle service within a five-mile radius, which includes Northbrook Metro Station to downtown Chicago.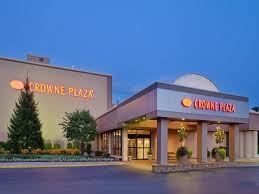 Crowne Plaza Chicago-Northbrook
I look forward to seeing you at the conference. May the Lord make a way should you wish to attend.
-Bob Turrill
---
Conferences/Gatherings Ordination and Licensure Ceremonies over the past 12 months
Canadian National Conference
May 18, 2016
Ancaster, Ontario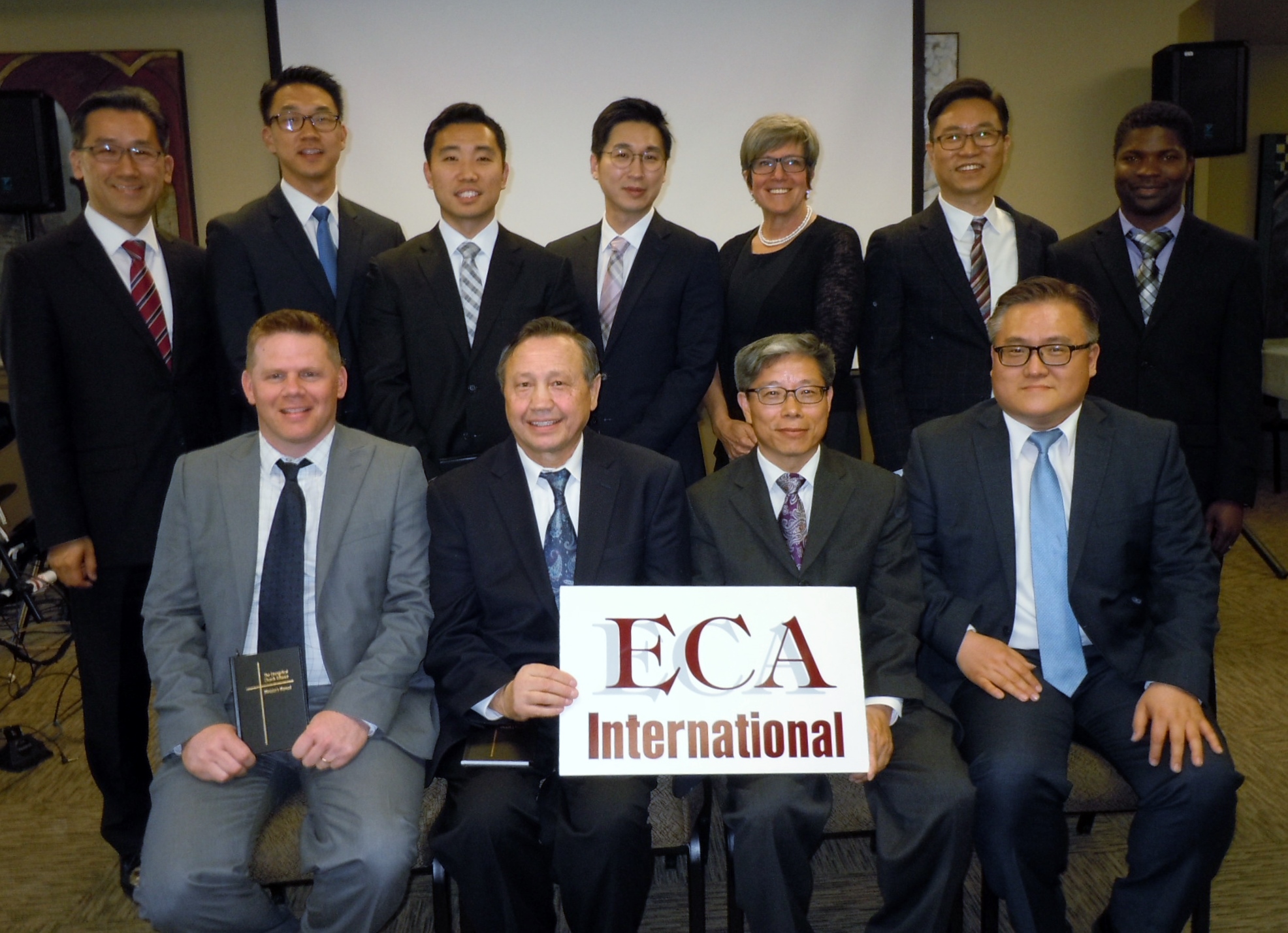 Winter Gathering
February 20, 2016
Goodyear, Arizona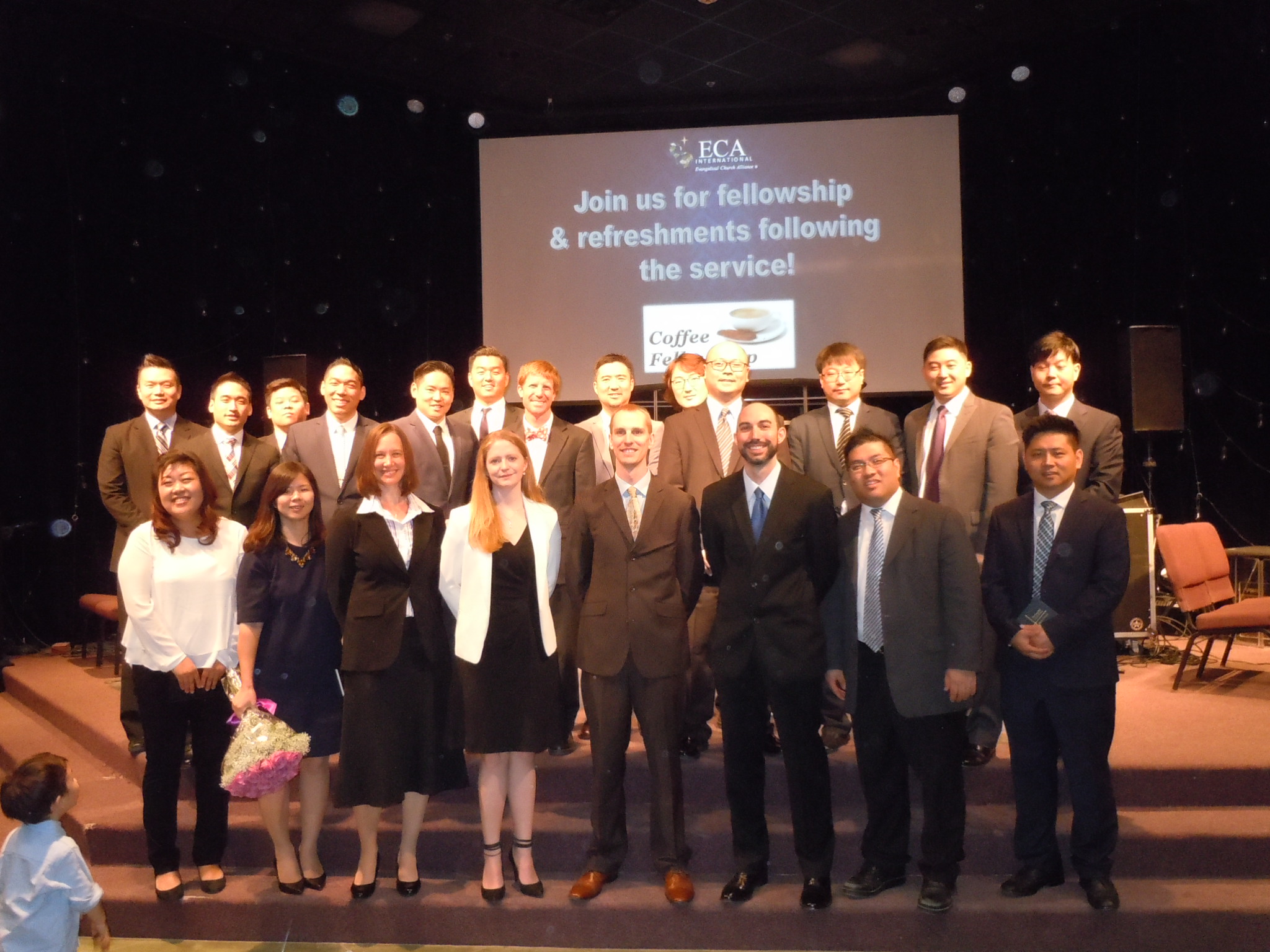 Year-End Gathering
December 4, 2015
Bourbonnais, Illinois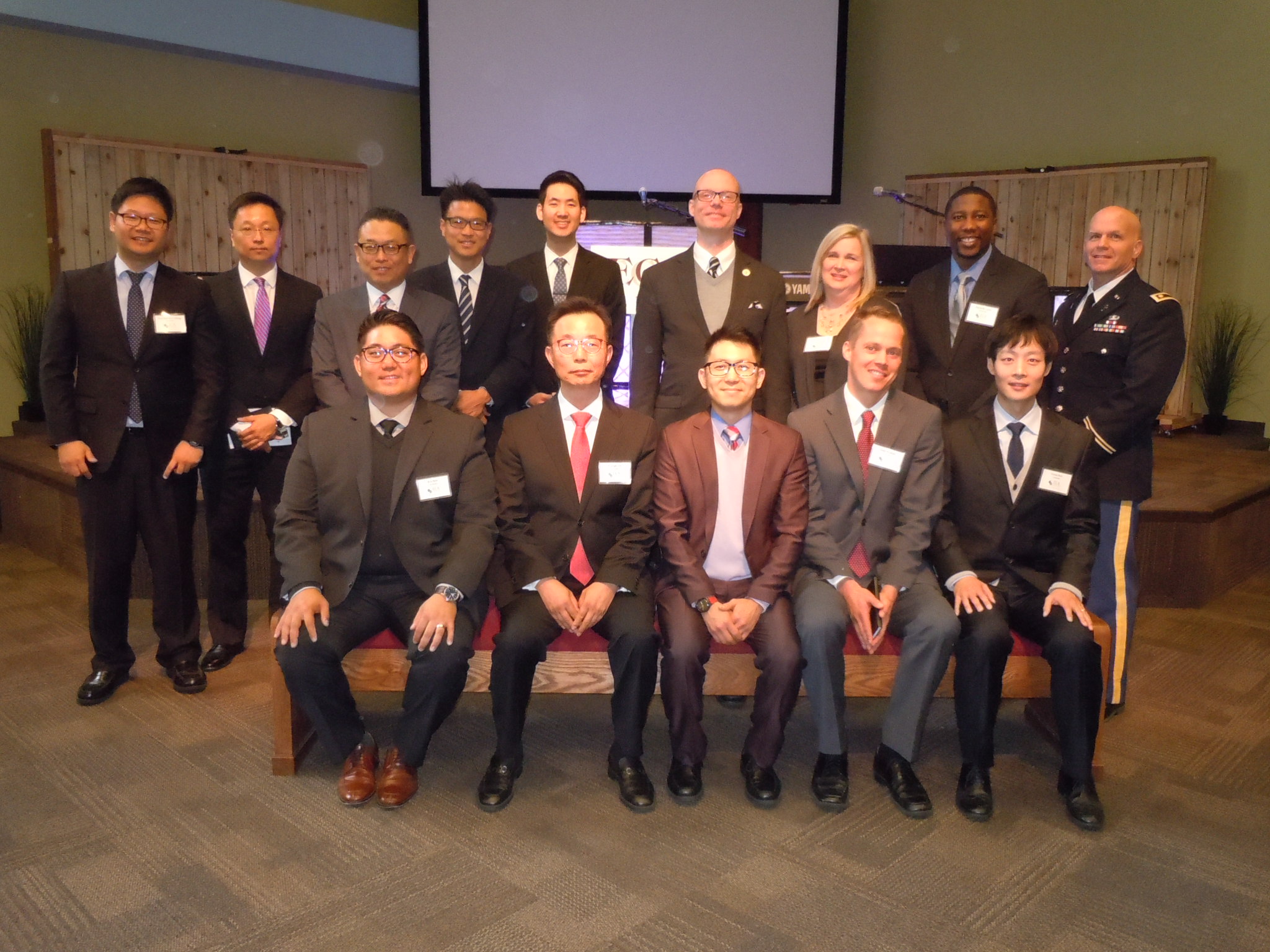 Fall Gathering
October 17, 2015
Sewickley, Pennsylvania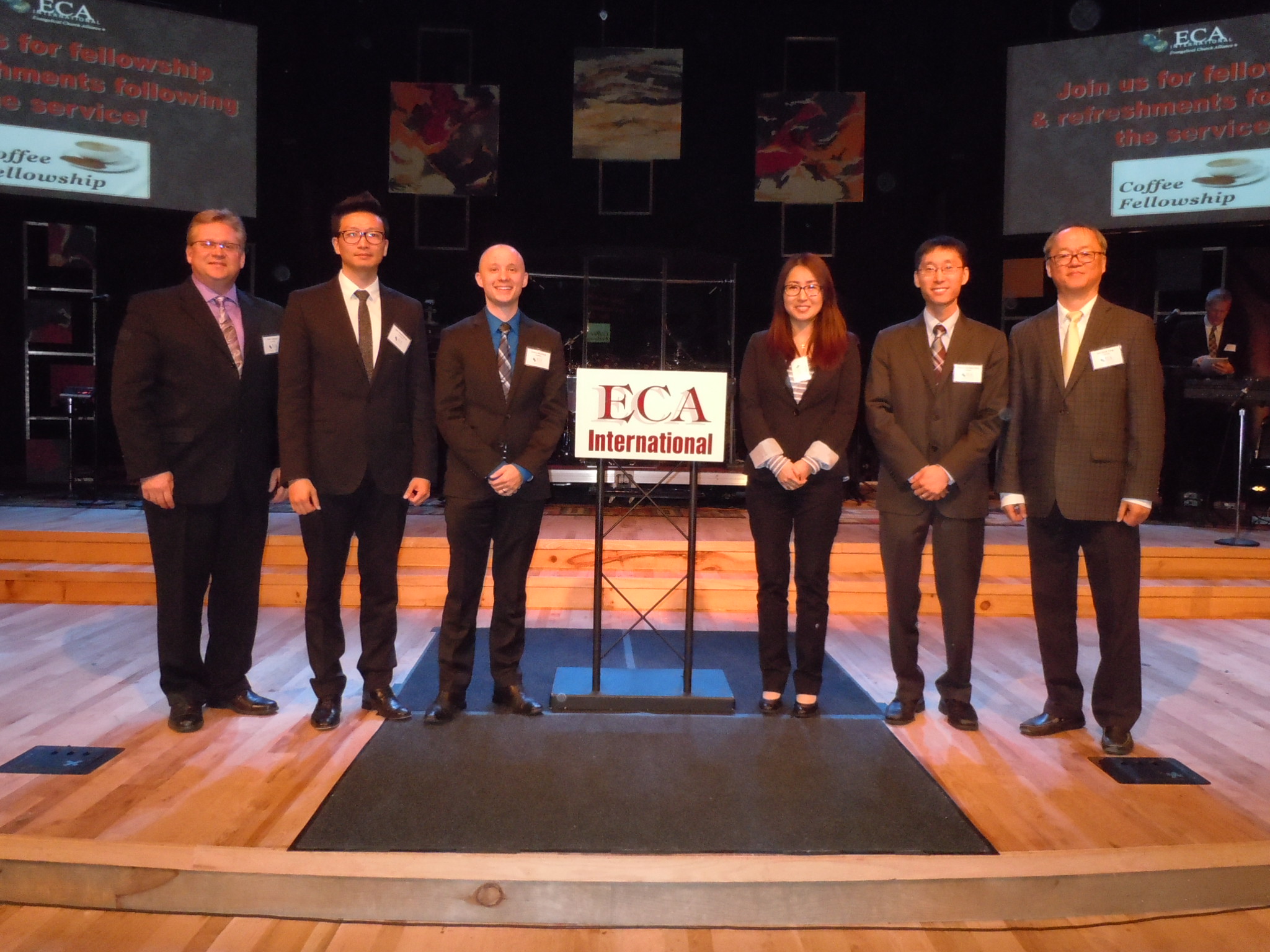 International Conference
July 21-23, 2015
Florence, Kentucky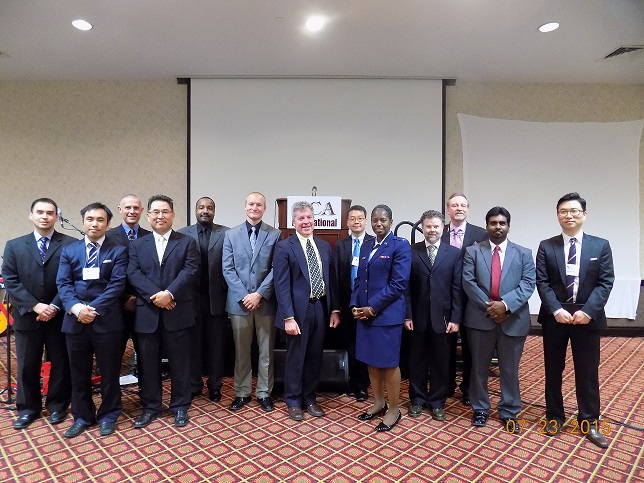 Highlights of Former ECA Annual Conferences
For highlights of former ECA Annual Conferences, the session recordings are available for download on the left hand margin of the Events page.
---

Dr. Elmon R. Krupnik, ECA Military Chaplain Commission Chairman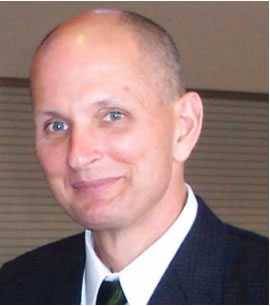 MILITARY, CIVIL AIR PATROL, VETERANS ADMINISTRATION & FEDERAL PRISON CHAPLAIN MEMBERS & ASSOCIATES NEWS
---
ECA Chaplains Tasha James and Juan Reyes Recognized for June 3, 2016 Graduation from Air Force Chaplain Corps College Basic Chaplain Course, Fort Jackson, South Carolina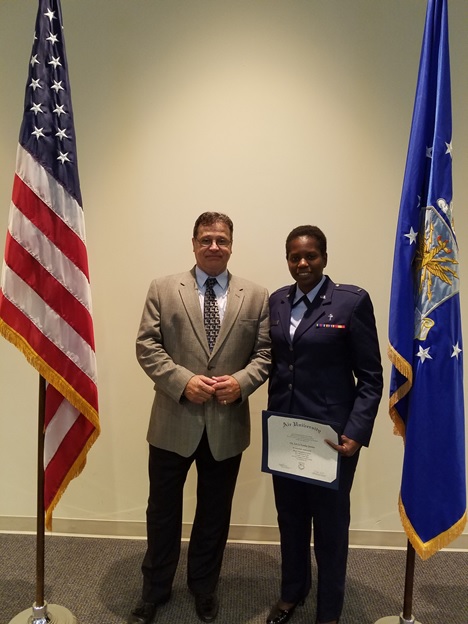 Chaplain (1LT) James joined for the occasion by ECA Military Chaplain Commission Member Chaplain (LTC) USA RET Gregory Estes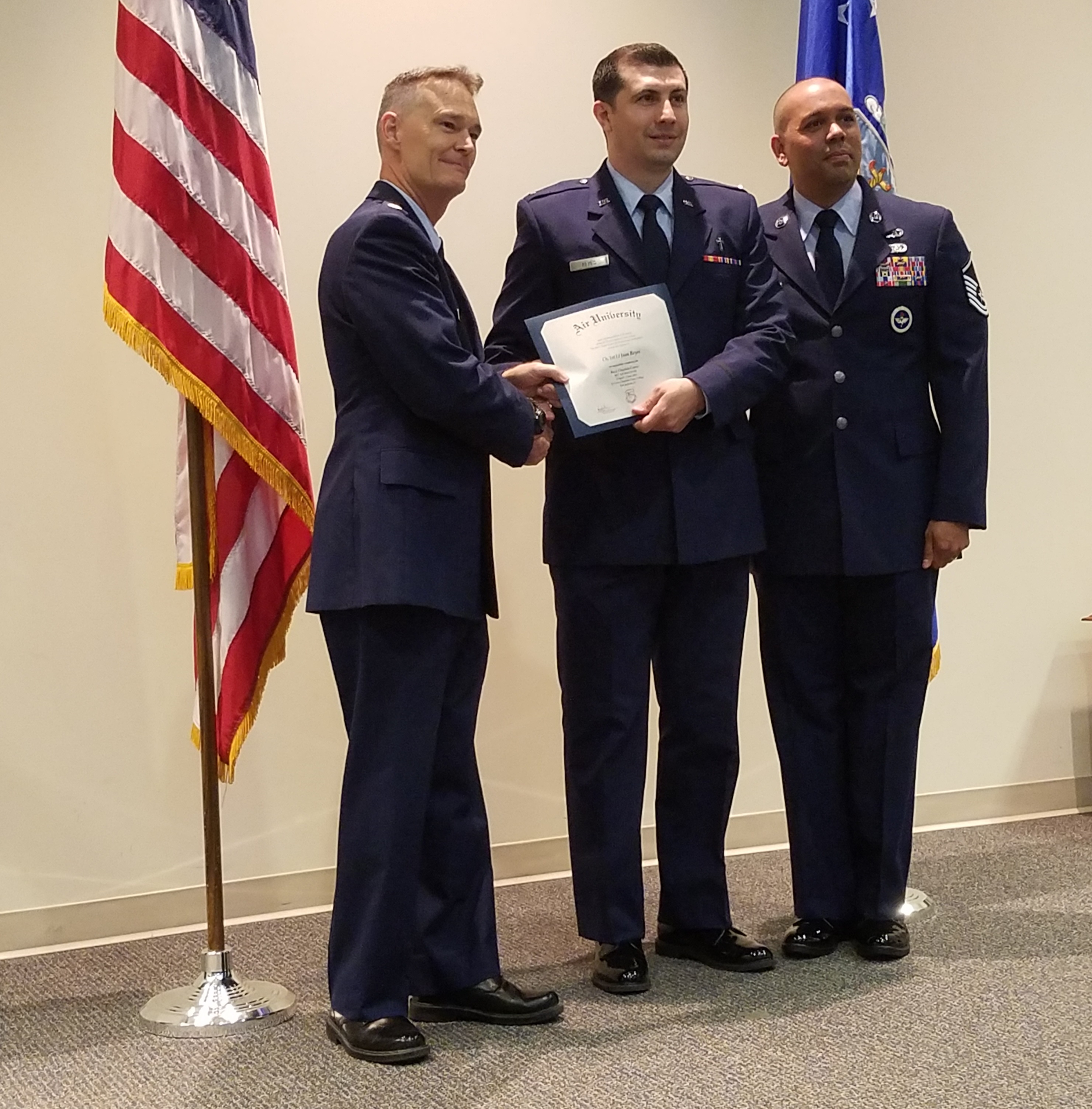 Chaplain (1LT) Reyes (center) at graduation ceremony
---
ECA's Chaplain Captain Alfred Matthews, U.S. Army, Earns Doctor of Ministry Degree May 21, 2016, from Erskine Theology Seminary, Due West, South Carolina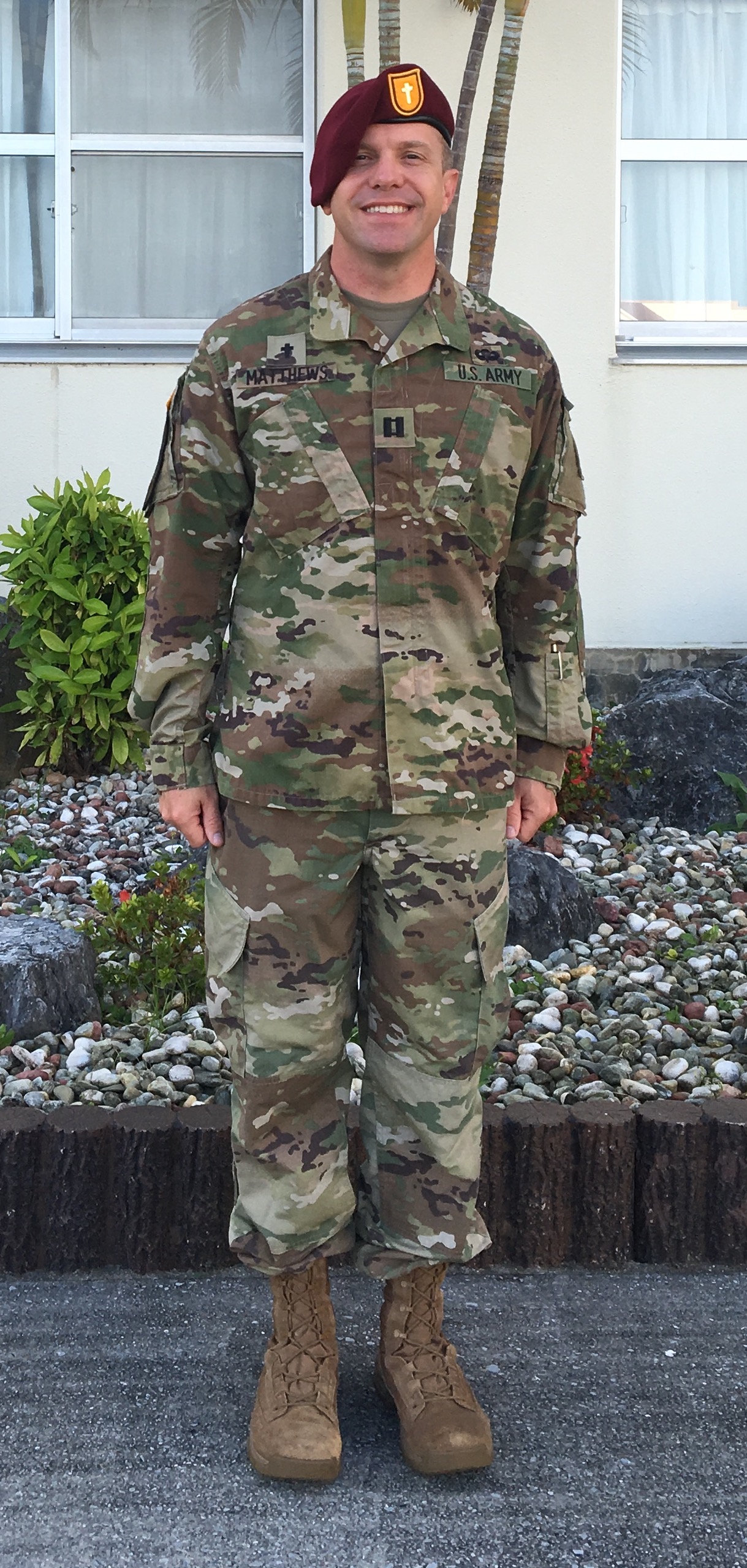 CH (CPT) Matthews
The timely degree dissertation entitled "Efficacy of the Biblical Lament as a Mode of Expression for Moral Distress Among Chaplains", is a labor love. May the Lord use it mightily to bless military chaplains and those in uniform they serve.
---
The ECA's Chaplain Colonel Kenneth R. Sorenson Preaches April 17, 2016, at Historic Dexter Avenue King Memorial Baptist Church in Montgomery, Alabama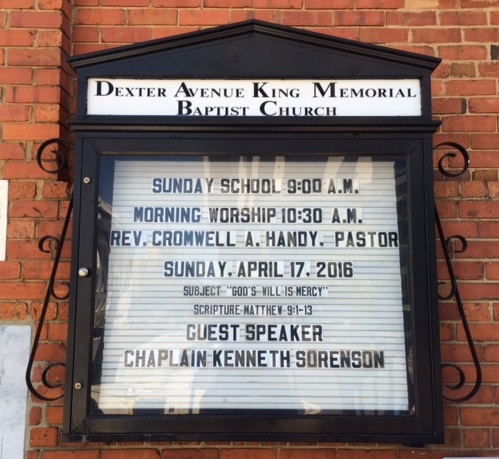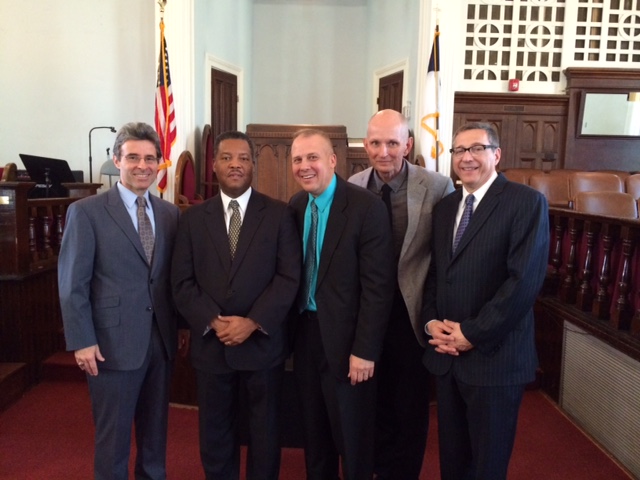 (l. to r.) Dr. Turrill, Rev. Cromwell A. Handy-Pastor of Dexter Avenue King Memorial Baptist Church, Chaplain (COL) Sorenson, Dr. Elmon Krupnik-ECA Military Chaplain Commission Chairman, and Dr. Rob Schenck-ECA Chairman of the Board standing in the sanctuary where Dr. Martin Luther King, Jr. used to preach and minister to his parishioners
---
U.S. Navy Chaplain Lieutenant La Toya Zavala
Conducts Resurrection Sunday Baptismal Service,
March 27, 2016, in Iwakuni, Japan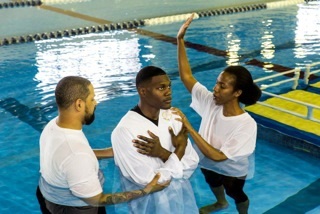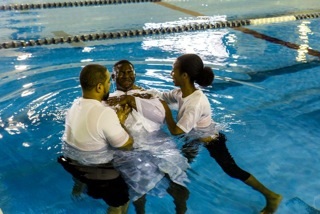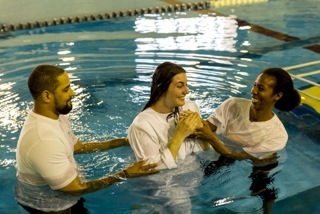 ---
ECA Celebrates April 8, 2016 Graduation of Three Members and One Chaplain Candidate From U.S. Army Chaplain Basic Officer Leader Course at Fort Jackson, South Carolina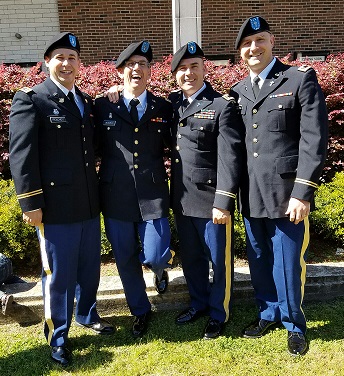 (l. to r.) Chaplain Candidate 1LT Kyle Aaron Peachey, CH (1LT) Harold Woody Morris, CH (1LT) Christopher David Smith, and Chaplain (1LT) Paul Joseph Perreault
Chaplain (LTC) USA RET Gregory Estes, a member of the ECA's Military Chaplain Commission and International Board of Directors, attended the ceremony.
---
New ECA Members Pursuing Military Chaplaincy Received February 20 at the ECA's 2016 Winter Gathering in Goodyear, Arizona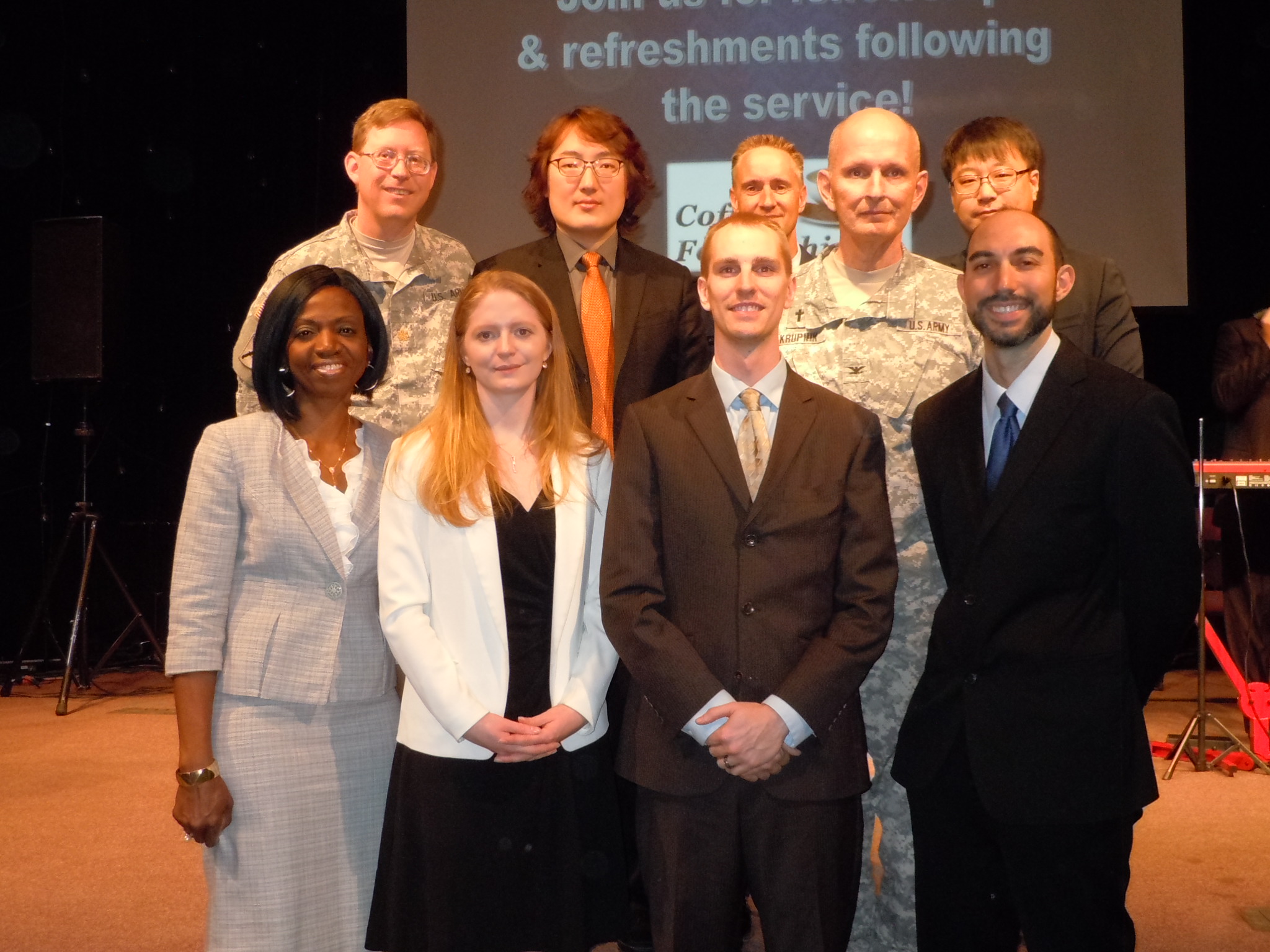 Joined by the ECA chaplains Captain Lauralee Ozello (1st row, far left), Captain Daniel Price (2nd row, far left), Military Chaplain Commissioner Dr. Elmon Krupnik (2nd row, far right), and Captain Tim Jacobs (3rd row, center)
---
The ECA's Tasha S. James Appointed 1st Lieutenant Chaplain with the U.S. Air Force Reserve January 15, 2016 at Joint Base Charleston, North Charleston, South Carolina
Congratulation Chaplain James!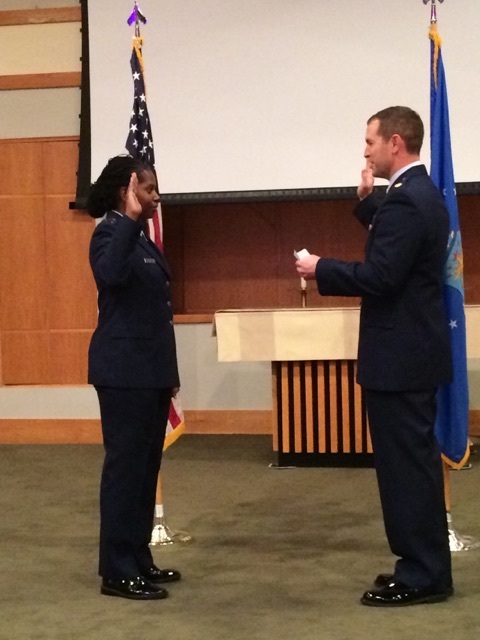 CH(1LT) James taking the oath of office
---