"But He was wounded for our transgressions, He was bruised for our iniquities; The chastisement for our peace was upon Him, And by His stripes we are healed."(Isaiah 53:5)
---
All ECA applicants must possess a written and spoken proficiency of the English language in order to interact with headquarters and the greater ECA membership. This would apply to handling items such as, but not limited to, the application for membership, e-mails, the ordination or licensure interview, phone calls, the annual ministerial reports (if membership is granted) and general correspondence among members. Also, all applicants must prove a valid need for ministerial credentials.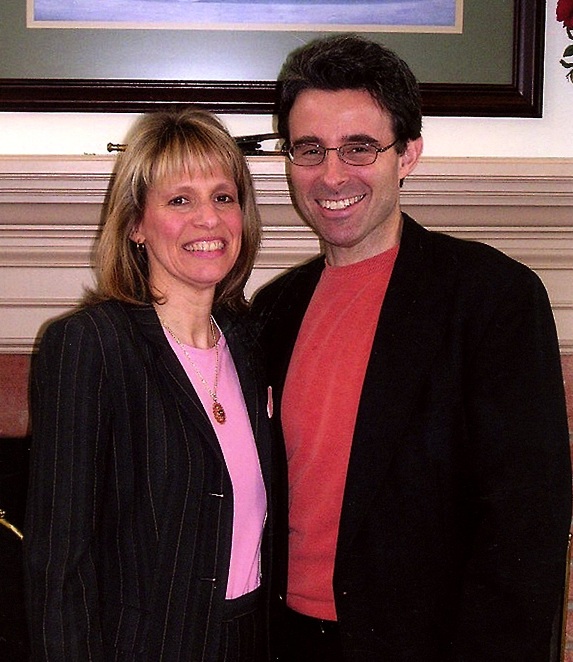 (Bob and Jane Turrill)
Thank you for visiting our website! Whether a member, candidate or inquirer, I trust you will find it to be a helpful resource. To begin, I would invite you to explore our Membership News articles immediately below.
Appreciatively in the Lord,
Dr. Robert H. Turrill
President & CEO
Evangelical Church Alliance
Num. 6:23
---
ECA Board- approved membership dues increase
Dear ECA Members and Candidates:
Greetings in the precious name of Jesus! In 2003 due to maintenance needs at the ECA headquarters and increasing costs of doing business, the Board found it necessary to raise annual dues. At that time, the executive staff estimated the increase would meet the needs of the ECA for at least ten years. By the grace of our Lord, we were able to keep the dues stable and maintain financial stability for almost the entire decade.
Unfortunately, in the last few years, our costs have been slowly increasing even though we have carefully managed our annual expenses. As a result, after much consideration of current and future needs, the Board found it necessary to increase annual dues to $175.00 effective January 1, 2014. With this increase we will be able to meet our financial obligations and maintain the ECA's high standards and faithful witness around the world.
As always, you have the option of making partial payments during the year, and we now accept credit or debit cards for your convenience. If you have already prepaid 2014 dues at the current rate of $125.00, we will inform you of the additional amount owed.
There is no need to respond to this message. Should you have a question or comment, however, please contact us via e-mail at info@ecainternational.org or by phone at 815-937-0720.
Thank you for your faithful service and fellowship! May the Lord continue to bless the work of your hands.
For the King of kings,
Dr. Robert H. Turrill
President & CEO
Numbers 6:24
---
From Missions To Mission: Our Daughter's Homegoing!
By: Rev. Chris Williams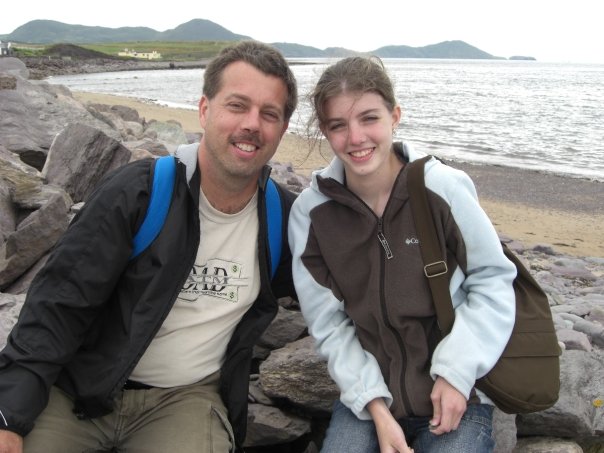 (Rev. Williams and late daughter, Justina, in Ireland, 2009)
"Ministries to the Military" with Cadence International, that's where we were headed. We had finished a year of preparation concluding with two weeks of Candidacy school in Colorado in June of 2011. My wife and I were appointed missionaries, we were excited, we were at peace with this direction and we came home and continued the preparation to get to the mission field. After five interviews in two days, hours of classes, a number of psychological tests, workshops and other preparation we were at rest and on our way. We were reading books to learn how to raise money and getting our list of possible donators together. One element we were waiting for was a promotional video, which would help kick-start the new ministry we were ready to embark upon. While we were in Colorado a production company prepared this video and time would be needed to edit and finalize its production. We had the peace of God in our lives that this direction would enable us to share the gospel with our military personnel, which we felt called to. So, as we waited on our promotional video we were organizing ourselves to transition into fund raising mode. We were sent home to read some books that would strengthen us and make sure we were spiritually ready for this new adventure in our lives. From June 2011 to October 2011 we were on our way back into mission work after beginning our lives together in mission work.
Our mission and direction would change dramatically and rapidly. On an extremely foggy morning, namely October 7, 2011, which will be etched in our minds forever, I received that dreaded phone call that no parent ever wants to receive. "Mr. Williams, your 20 year-old daughter has been in a terrible automobile accident." My wife and I were soon on our way driving on a long journey to the hospital. She was traveling to nursing clinicals when the driver of the car she was in missed a stop sign and they were broadsided being hit where our daughter was sitting. Arriving at the hospital and being met by the Chaplain it was clear to us that we were not going to receive any good news. We were taken into a private room and given the grim prognosis. There was no hope, and we needed to make some seriously difficult decisions that no parent should have to make for their child. We had to make the decision to let her go because she was brain dead and would never have a life worth living on this earth. Also, we were approached by "donate life" to see if we were interested in donating any of her organs. Five organs saved four lives so if we could not have our daughter back; we were willing to help save four lives.
This journey we are on has been grievous, strenuous, stressful and painful. Through all the emotions that have come our way, we have learned to trust in Jesus, and we have the peace that passes all understanding in our hearts. As our daughter lay there in the hospital bed we began to sing songs like, "Amazing Grace," and pray together as a family. We knew we were looking at her shell and we knew with assurance through the life she lived that she was now living eternally with her heavenly Father. We came home from the hospital saddened by our loss and with peace in our hearts at the same time. We found out during that first weekend that her last post on Facebook was a quote from Charles Spurgeon, "By perseverance, the snail reached the ark." This journey continues and we have not reached the end. While we continue down this path that has been chosen for us, we persevere and begin a new mission. We have chosen to continue striving toward mission work with the military. We began this journey with peace in our hearts about sharing the gospel with our military; though now in light of our loss it may look a bit differently, we still look forward to this avenue of ministry. This grief we live with and the path we follow will be used to touch others as we now can share wisdom out of our pain.
---
Western Maryland, We're Not In This Alone
By: D. Lent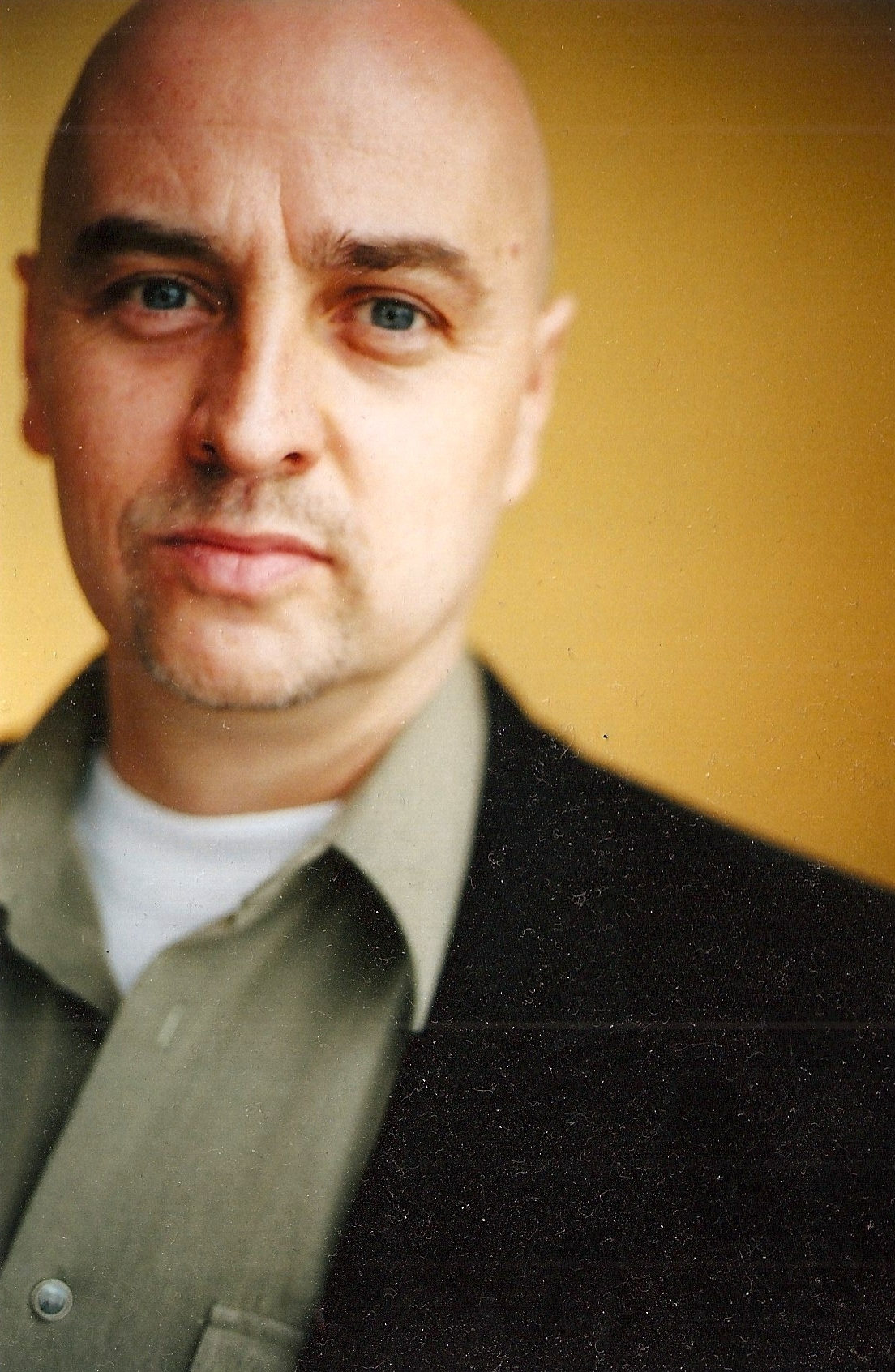 (Chaplain Demers)
Please click
here
to read this American Red Cross disaster-relief article featuring the ECA's Dr. Paul H. Demers, Institutional Chaplain, Western Correctional Institution, Cumberland, Maryland, USA.
---
If you are looking for a position, or to fill one, browse our Ministry Opportunities page.
---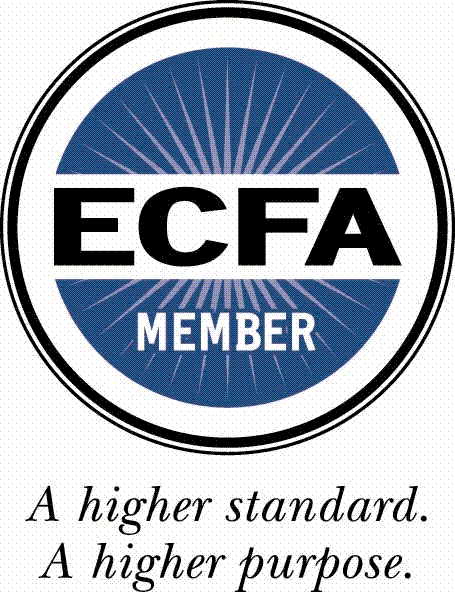 The ECA is a member in good standing of the Evangelical Council on Financial Accountability (ECFA). Our compliance with ECFA's standards gives testimony to our commitment to the highest standards of fundraising and financial management.
---

2013 ECA Conferences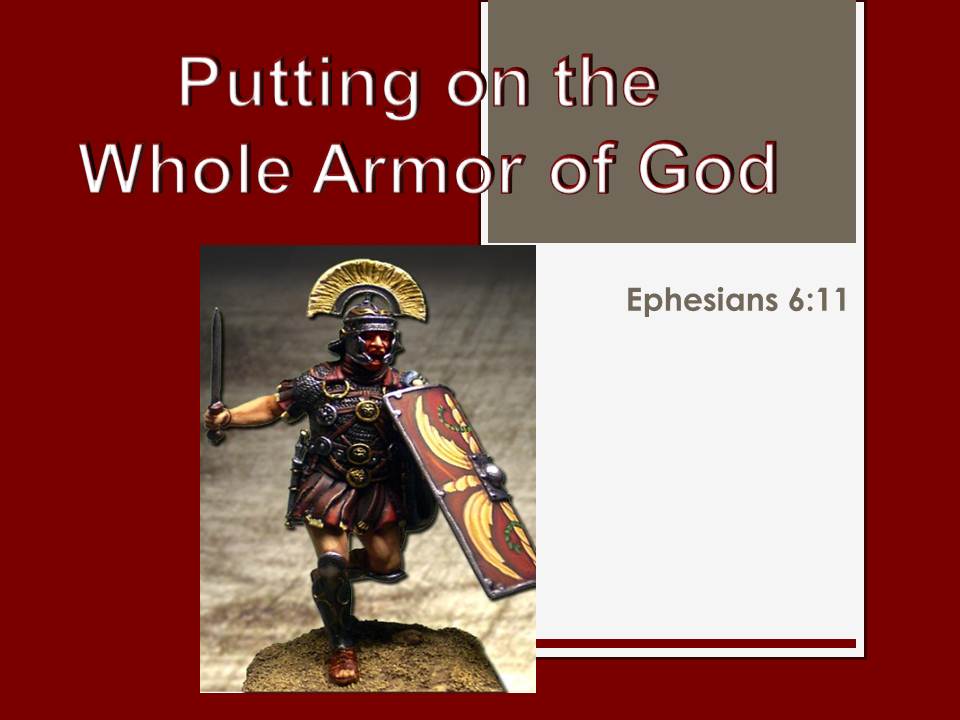 Dear ECA Members, Candidates and Friends:
Now with the 2013 ECA conference season having come to a close, it seems fitting to pause for a moment of reflection. As the war between the kingdoms of light and darkness rages on multiple fronts in these last days, it is imperative that the soldier of the Lord be well equipped and continually in a state of readiness for spiritual battle with Satan and his minions. To this end it is my hope that those who attended one or more of our conferences in the US and Canada were challenged by this year's conference theme, the Apostle Paul's command by the Holy Spirit to "put on the whole armor of God" (Eph. 6:11), and returned to the frontlines reinforced, refocused and rejuvenated. For a schedule of the conferences to see where we have been for the year, please click here. For those of you who were able to attend this year's Annual International Conference, July 23 - 25, in scenic Gatlinburg, I trust it was a blessed time of instruction, prayer, fellowship and reinvigoration. Should there be a desire to revisit the conference, or in the event you were not able to attend but would like to get a taste of it, click here to access the downloaded sessions and photo gallery. To download the fully illustrated conference bulletin, click here.
Be sure to make plans to attend one of our 2014 conferences, the complete schedule for which is now being finalized will be posted here on the website. Confirmed thus far are the Canadian National Conference, Wednesday, April 30th, in Toronto, Ontario and the Annual International Conference, Tuesday, July 29th through Thursday, July 31st, in exciting Branson, Missouri. Details will follow.
Should any of our events fit your schedule, I do hope you make plans to come. The uplifting messages, great fellowship, prayer time and opportunities to share about your ministry and break bread with other attendees will make it well worth your while. Also, while you are considering this, I invite you to look immediately below to meet our newest members who were received through our recent fall regional U.S. conferences held in Buena Park, California, Sacramento, California, Seattle, Washington, and Denver, Colorado. May we all extend to these brothers and sisters a hearty ECA welcome upon the occasion of their joining the ECA family of faith.
Dr. Robert H. Turrill
President & CEO
---
Welcome New Members!
2013 Midwest
Ordination Service
November 21, 2013
Bourbonnais, Illinois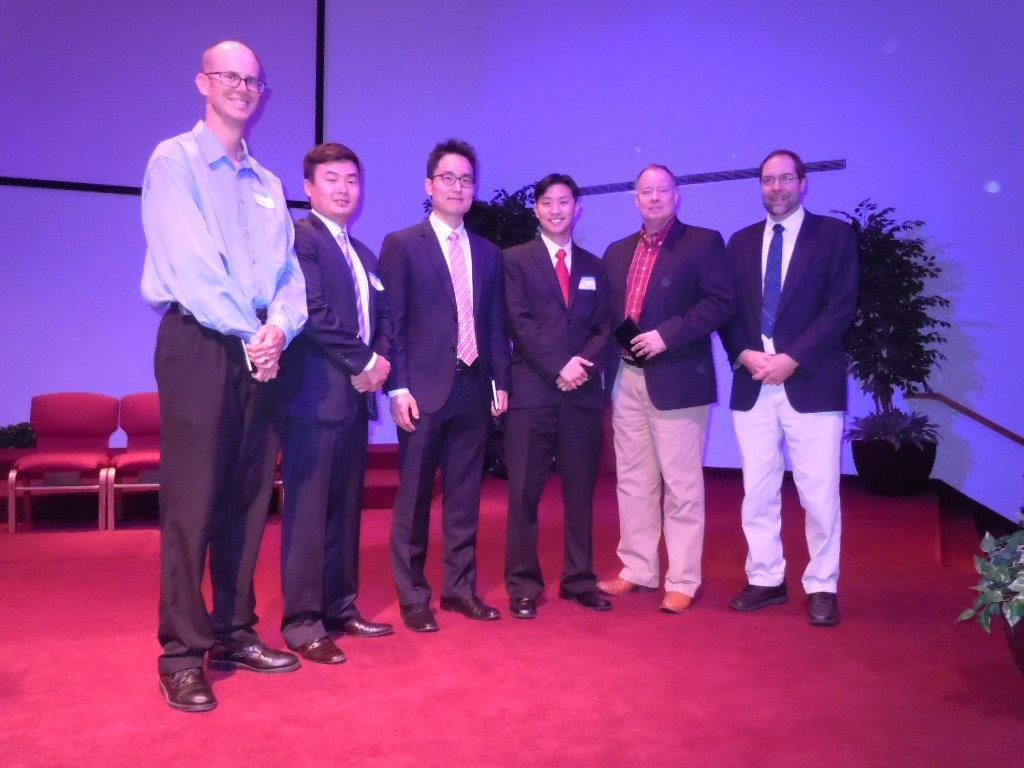 ---
2013 Rocky Mountain Regional Conference
October 11, 2013
Denver, Colorado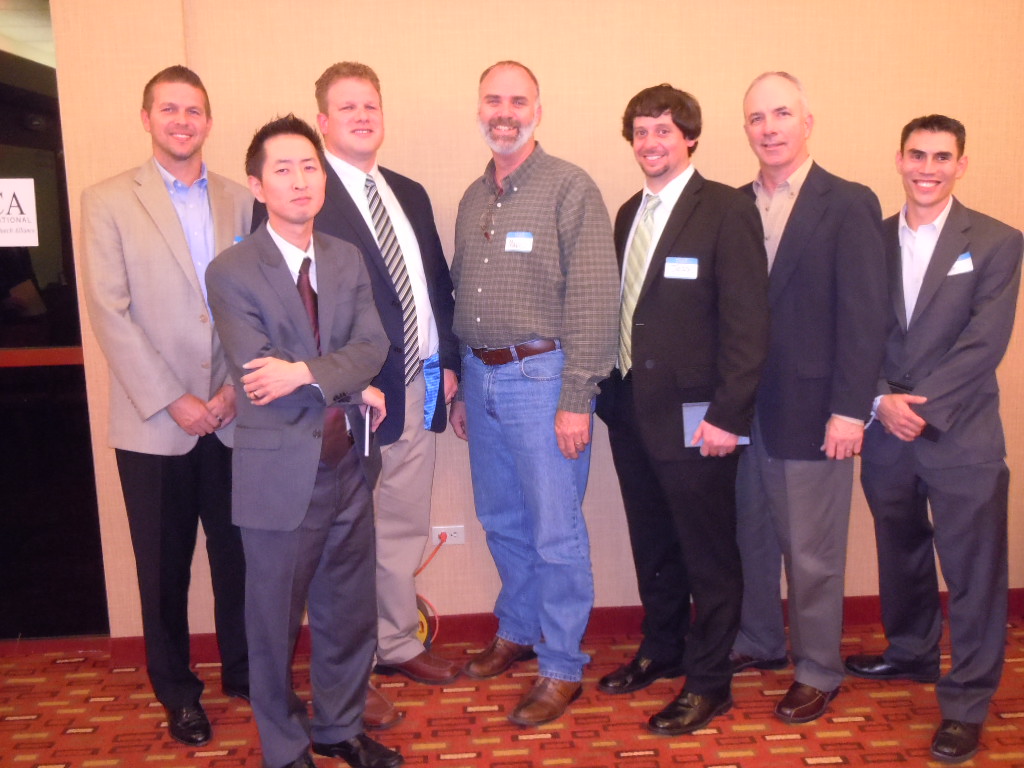 ---
2013 Pacific Northwest Regional Conference
October 8, 2013
Seattle, Washington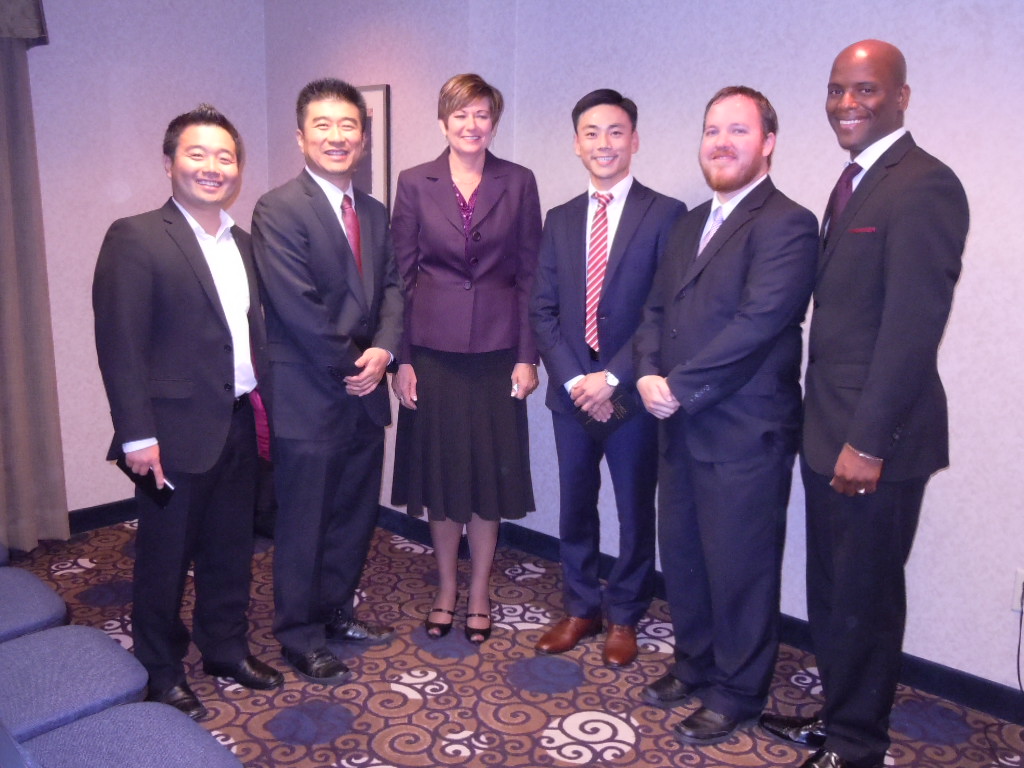 ---
2013 Northern California Regional Conference
October 4, 2013
Sacramento, California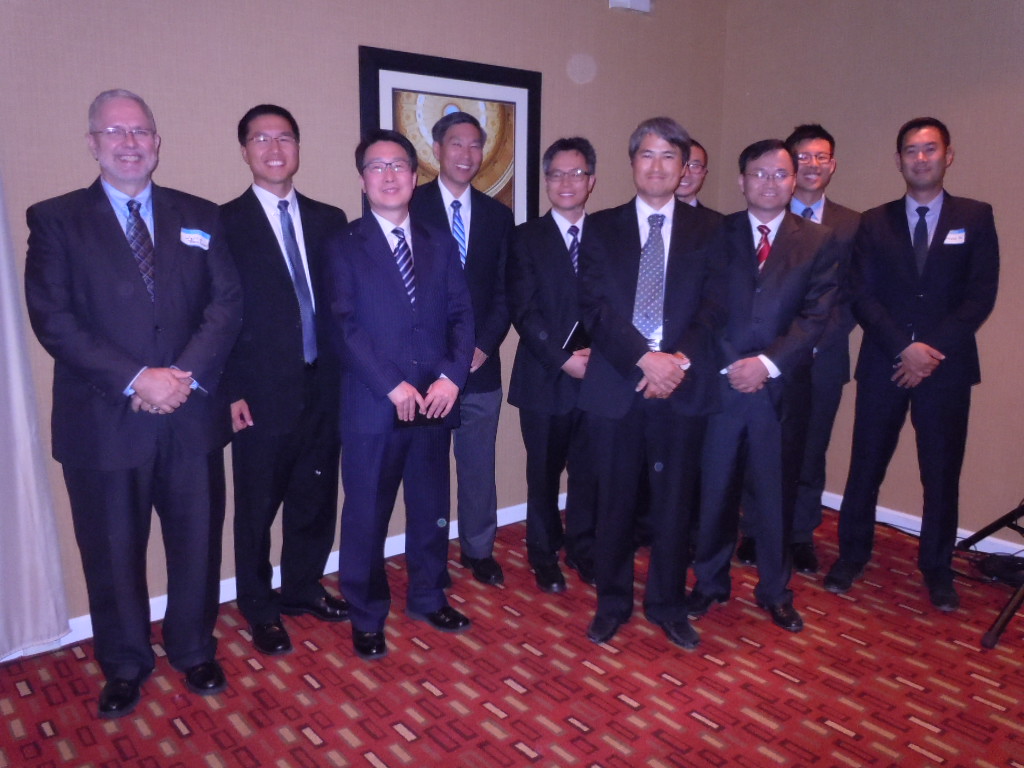 ---
2013 Southern California Regional Conference
October 1, 2013
Buena Park, California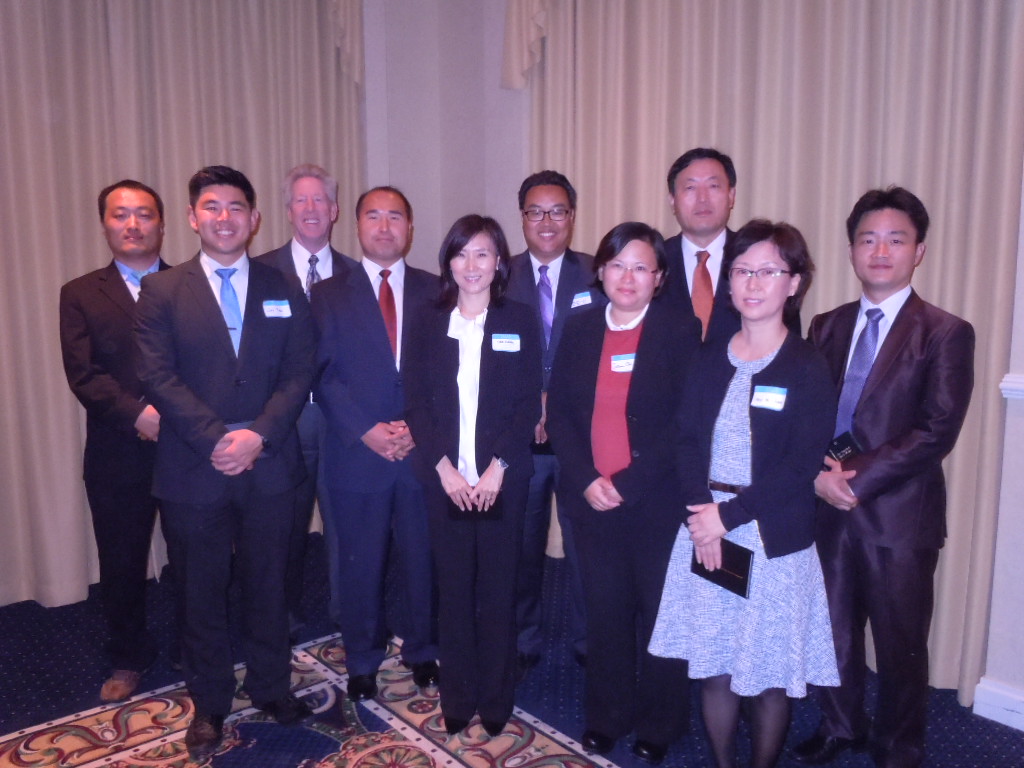 ---
2013 Annual International Conference
July 23-25, 2013
Gatlinburg, Tennessee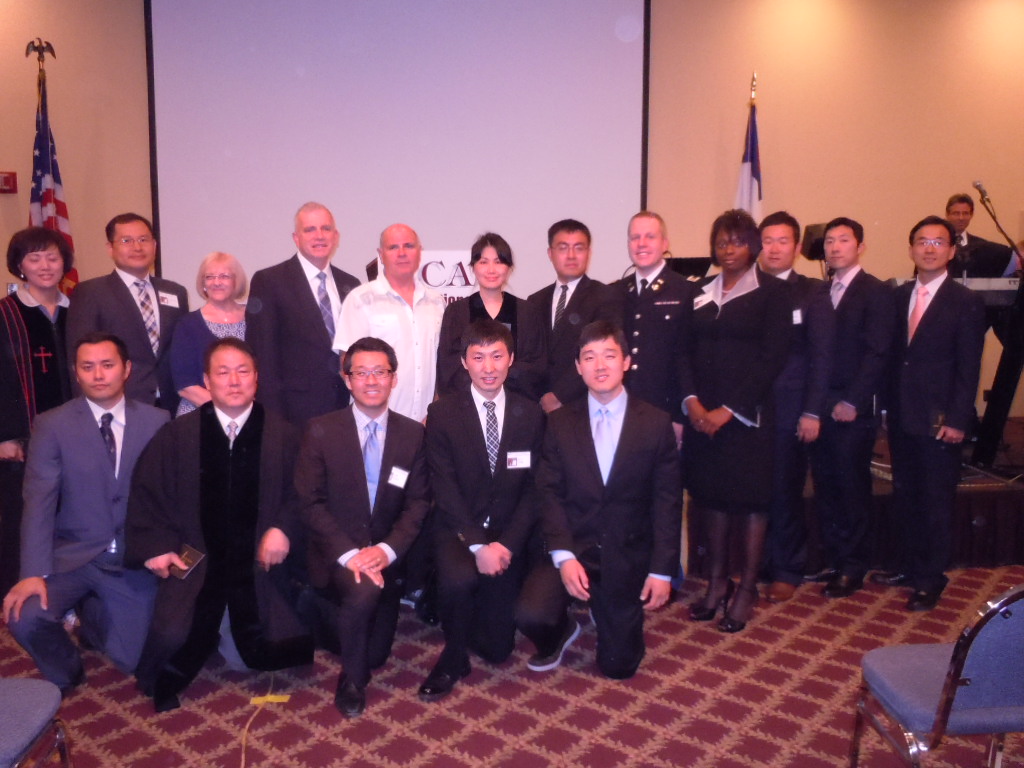 ---
2013 Korean Council
June 5, 2013
Brea, California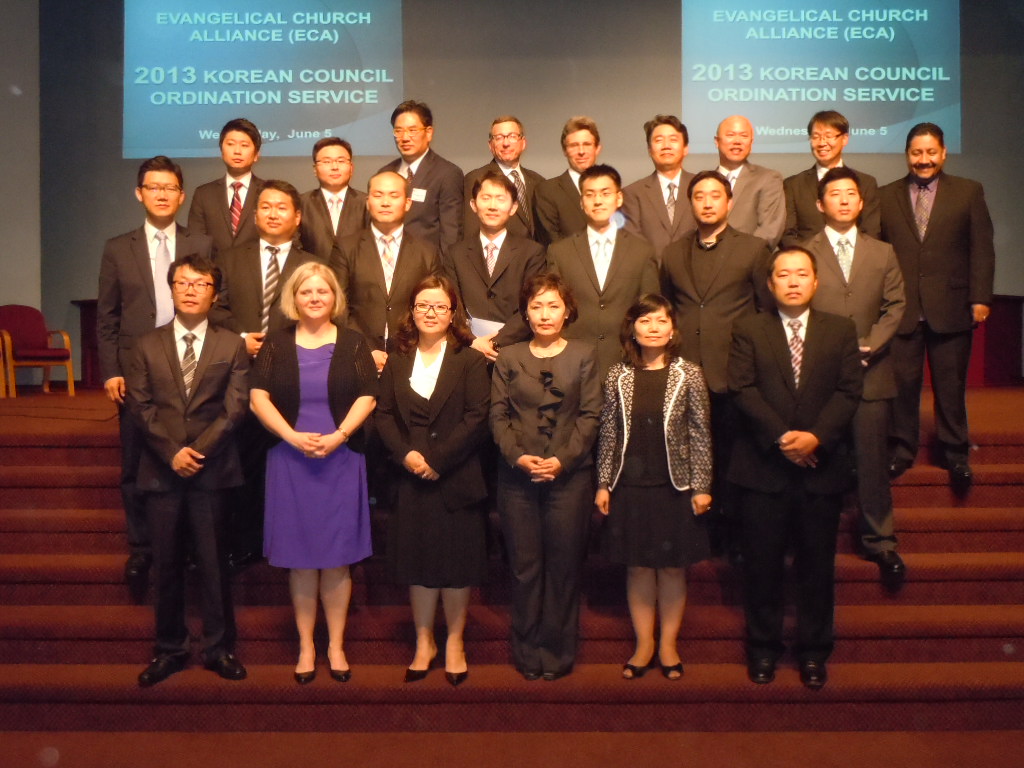 ---
2013 Canadian National Conference
May 8, 2013
Toronto, Ontario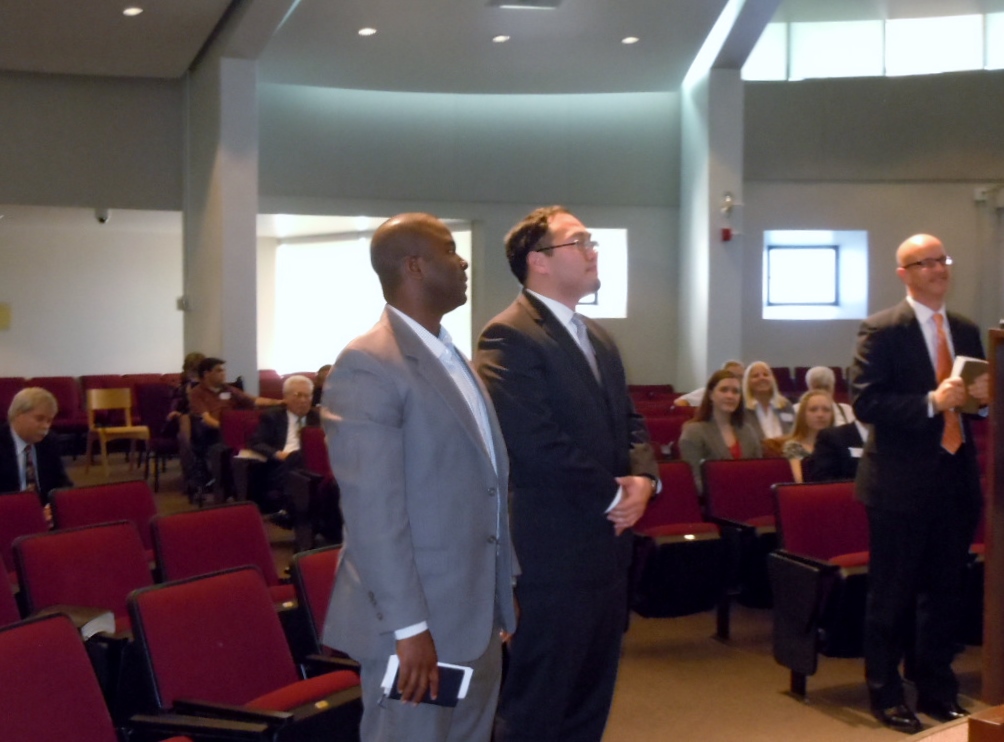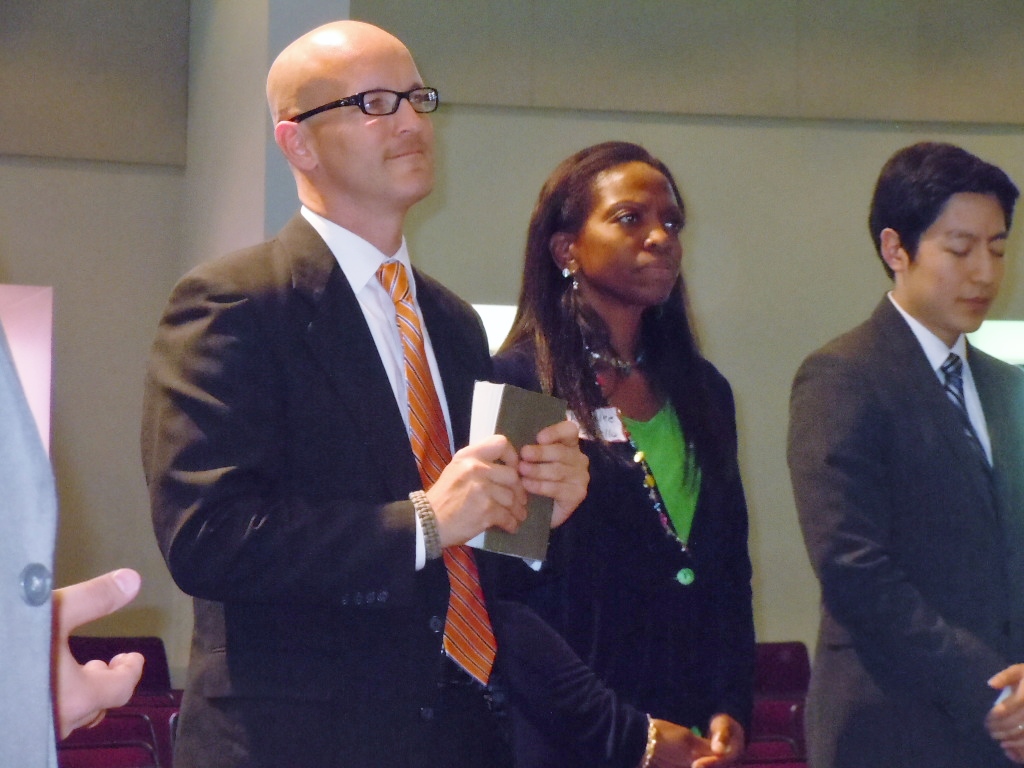 ---
2013 Florida Regional Conference
February 9, 2013
Delray Beach, Florida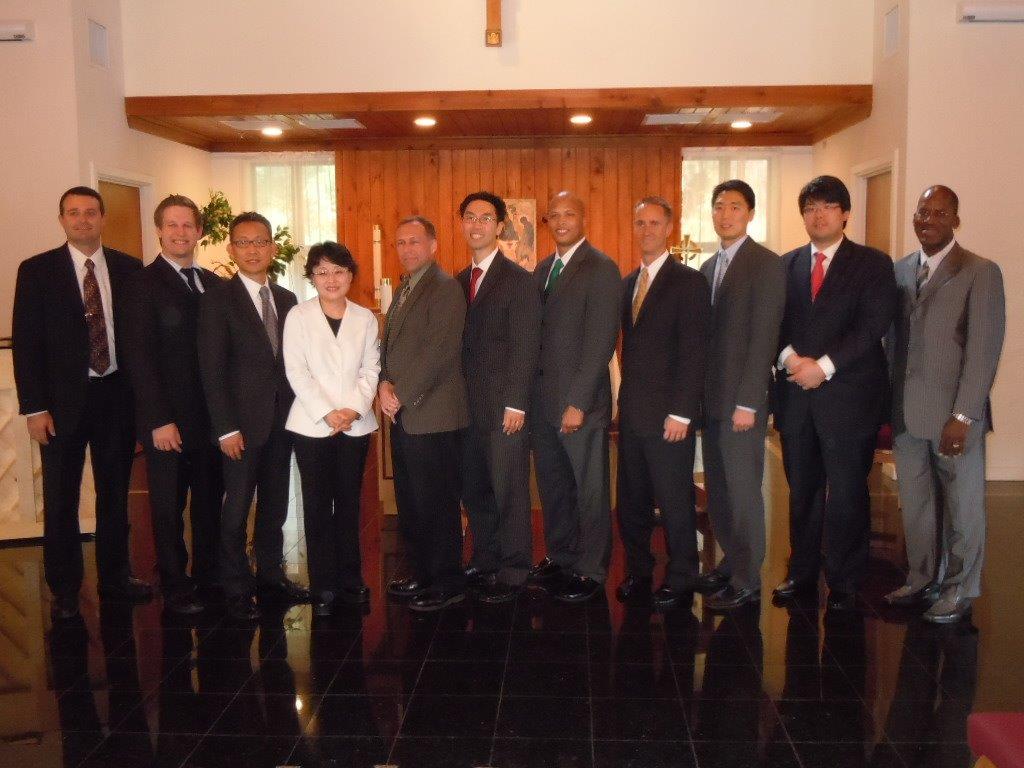 ---
Highlights of Former ECA Annual Conferences
For highlights of former ECA Annual Conferences, the session recordings are available for download on the left hand margin of the Events page.
---
MILITARY CHAPLAIN MEMBERS
---
Dr. Elmon R. Krupnik, ECA Military Chaplain Commission Chairman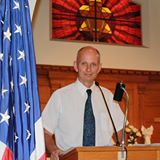 Combat Boots and Prayer
Story by Sgt. Lauren Twigg
(Chaplains from the Arizona Army National Guard conducted a recent spiritual exercise held at the Franciscan Renewal Center in Scottsdale, Ariz.)

SCOTTSDALE, Ariz. - The soldiers file into the room and take seats behind large hand drums placed by each chair, which have been situated into a circle. The instructor advises them to take up the drums and get ready to play. The soldiers sheepishly grab hold of the drums in front of them and begin following the instructor's lead.

A few minutes later, the sound of beating drums loudly bounce off the walls. Smiles and laughter, and at times, flailing of arms and dancing can be observed as the soldiers get more comfortable with what they are doing.

This was just one part of the training chaplains and chaplain's assistants from the Arizona Army National Guard recently received during a recent spiritual exercise held at the Franciscan Renewal Center in Scottsdale.

The first-ever training entitled, "A Time for Renewal, A Time for Growth, A Time to Connect," was designed to help chaplains, candidates and chaplain's assistants reconnect with the chaplain corps.

"Any practice that broadens the corps' understanding of spiritual disciplines strengthens us in our individual callings and binds us more readily together as a religious support team," said Capt. Brad Walgren, a chaplain assigned to the 158th Maneuver Enhancement Brigade and the officer in charge of this event. "One of the greatest outcomes of the exercise was the Unit Ministry Teams now all know each other personally and have worshipped together as one."

To continue reading article click here.
---
Tyrone Luines swearing in as one of ECA's newest chaplains on September 24, 2013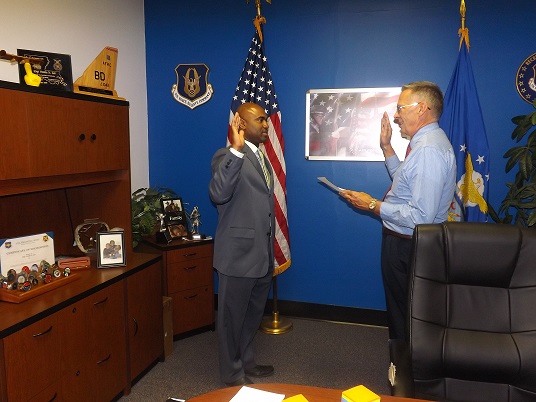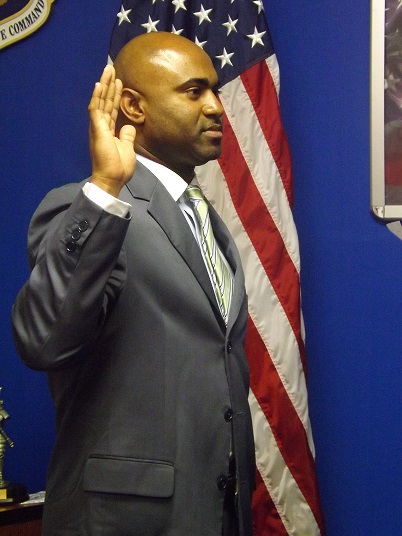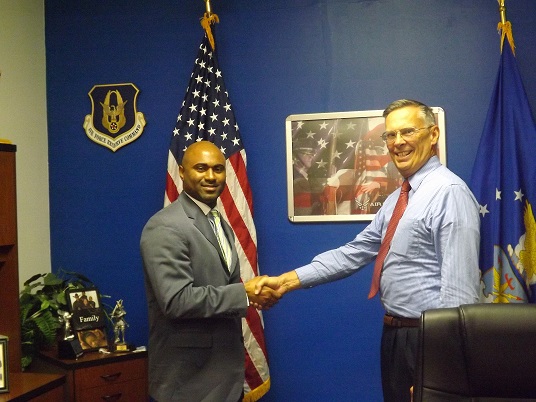 ---
Spiritual Refreshment
Message From
CH (CPT) Chuck Lowman
1/11ACR Squadron Chaplain
Fort Irwin, CA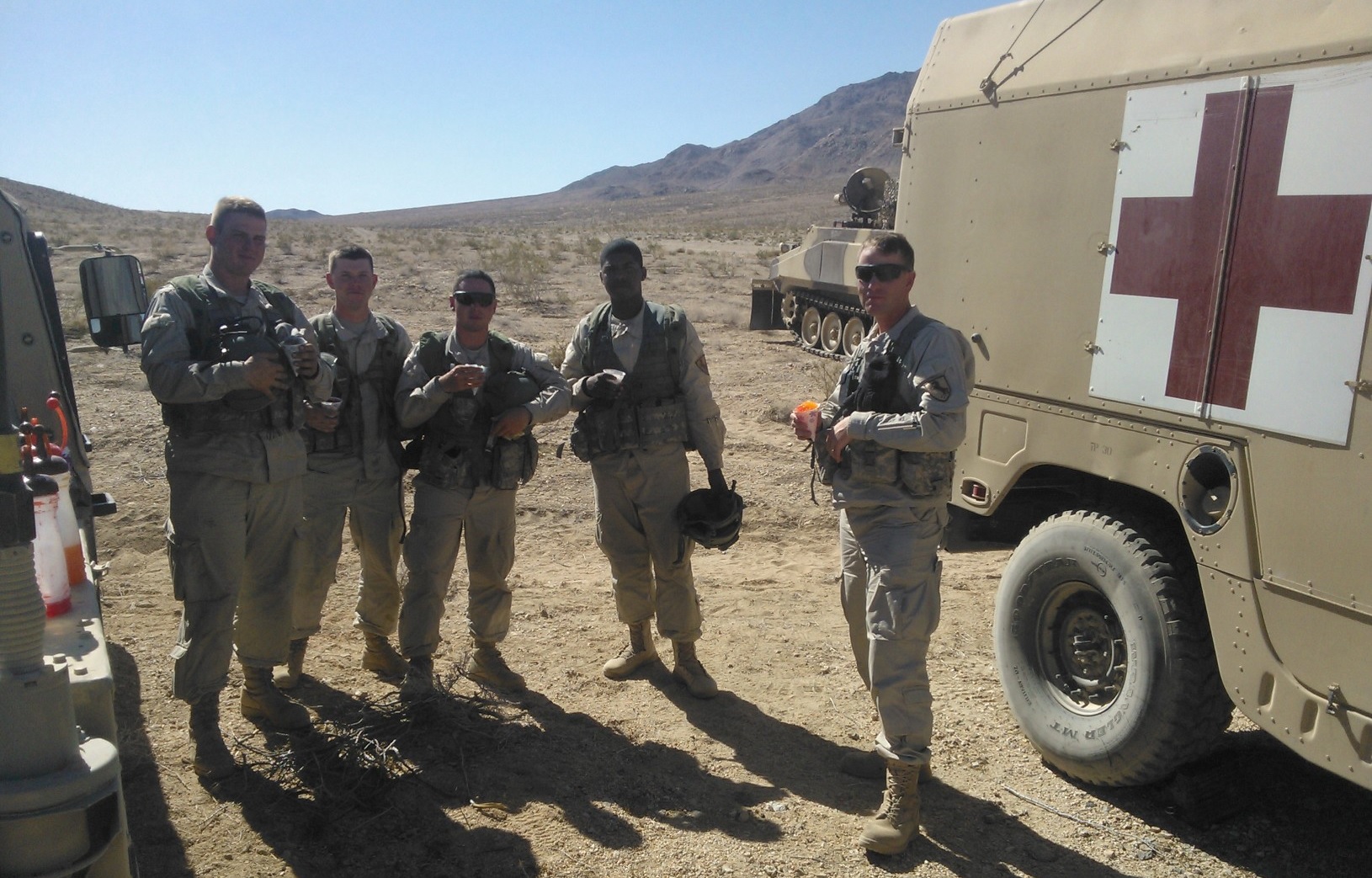 (CH (CPT) Chuck Lowman foreground)
For anyone that's been on a rotation through the National Training Center (NTC), a world of extremes would be an appropriate description. From freezing temperatures in the winter, to extreme heat in the summer, and a very challenging OPTEMPO, the NTC pushes those extremes to the limit. One of unspoken goals of the NTC is to stress and break the systems of the Rotational Training Unit (RTU – the unit coming to the NTC to be trained), to see how those systems hold up under pressure. This stress is purposeful, to make the teams learn from their mistakes, to make their systems better, and in the words of my Squadron Commander, "To make their worst day be here at the National Training Center, so that they will be prepared when they face real bullets downrange!"
To continue reading article click here.
---
Chaplain (MAJ) Jeffrey L. Brooks
Congratulations and happy retirement on 22 years of service to God and Country!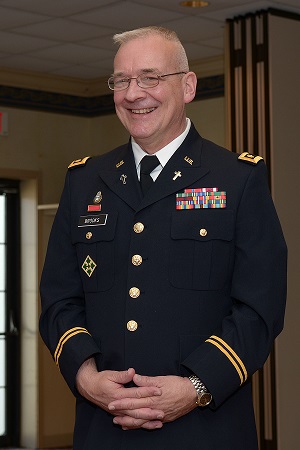 Chaplain (Major) Jeffrey L. Brooks completed his undergraduate degree at Southeastern College of the Assemblies of God in Lakeland, Florida and completed his graduate degree at Golden Gate Baptist Theological Seminary in Mill Valley, California. In December of 2002 he began his career as a chaplain at Fort Leonard Wood, Missouri where he deployed to Iraq for 12 months with the 5th Engineer Battalion in support of Operation Iraqi Freedom. After that, he went to Korea for a year where he served with the 1-15th Field Artillery Battalion. Chaplain Brooks graduated from the Chaplaincy Advanced Course in 2006, then spent just under three years as the Senior Chaplain's Resource Manager at Fort Knox. Prior to spending two years as the Installation Chaplain at Tobyhanna Army Depot, he served for just eighteen months as a Brigade Chaplain at Fort Leonard Wood, Missouri. Chaplain Brooks will retire in July, completing twenty-two years of active military service. After that he will continue as an active member of the Evangelical Church Alliance and will reside in Tampa, Florida. Chaplain Brooks' awards include the Bronze Star Medal, Meritorious Service Medal and the Global War on Terrorism Expeditionary Medal.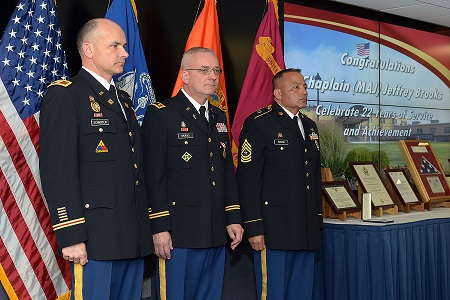 ---