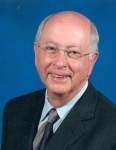 Dr. George L. Miller
1936-2014
Dear members and friends of the Evangelical Church Alliance:
It is with a sense of loss, but also celebration for his life and legacy, that I announce Saturday's home going of Dr. George L. Miller due to a sudden turn after an almost yearlong battle with leukemia. For those who have more recently become acquainted with the ECA, Dr. Miller, ordained with the ECA since 1978, served the organization in the ensuing years in the capacities of President, Chairman of the International Board of Directors and Military Chaplain Commission Director, a post he held up until his death. A remarkable visionary and leader, he modernized the ECA, and was used of the Lord to continue to expand it into the worldwide family of faith the work is today. His gentle spirit, pastor's heart and humor will be missed by both all of us here at headquarters and those to whom he so faithfully ministered. Let us remember in prayer his son, ECA Board member Rev. Derick Miller, and other family members at this time. Any condolences to the Miller family may be sent to the following:
E-mail: derick@growdeepreachwide.org
Postal address:
860 Washington Avenue
Bourbonnais, IL 60914
U.S.A.
Funeral arrangements are as follows:
Viewing
Tuesday, December 9
3:00 - 8:00 pm
Funeral service
Wed., Dec. 10
11:00 am
Location for both the viewing and funeral service
River Valley Christian Fellowship (where Dr. Miller previously served as Senior Pastor)
800 Cardinal Drive
Bourbonnais, IL 60914
(815) 933-7353
For the obituary, please click here.
Now on a related note I would like to address the ECA's military chaplains. I mourn with you, but am grateful for our brother's investment of labor and love that resulted in the ECA becoming the third largest endorser of military chaplains in the Protestant world. In honoring his recommendation to assure there would be no interruption in endorsement service of signing off on official government chaplaincy documents, the Board of Directors has appointed me to serve temporarily as Military Chaplain Commission Director/Endorser until the position is permanently filled. We are pleased to announce that Dr. Elmon Krupnik will both maintain his vital role as Military Chaplain Commission Chairman and continue to vet the military qualifications of applicants, and field e-mails and phone calls from them and member chaplains.
May the Lord be praised for the life of Dr. George L. Miller. Indeed our loss is heaven's gain. "Blessed in the sight of the Lord is the death of His saints" (Ps. 116:15).
To God be the glory,
Dr. Robert H. Turrill
President/CEO
Evangelical Church Alliance
Num. 6:24