Membership Services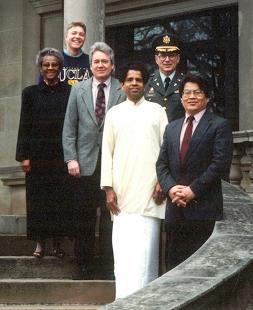 This page is available as a resource for our members. You may click on the links at the left or below for various helps. If you cannot find what you are looking for or you have a suggestion for this page, please email info@ecainternational.org.
Ministry, Contact and Address Changes: As part of your agreement in membership with the ECA, please notify us of any contact changes (i.e. address, phones, email), ministry position/title, or marital status within 45 days of accurance. Theses notifications may be sent to: info@ecainternational.org
Keep Your Credentials Current
The ECA 2014 Ministerial Credentials were mailed December 24, 2013. The white 6 x 9 envelope included a 2013 Annual Ministerial Report Form and the invoice in the amount of $175.00 for your 2014 Annual Membership Dues.
2014 Annual Membership Dues payments are due immediately upon receipt. If the entire amount cannot be paid immediately, members may submit a partial payment and the balance must be paid by December 1, 2014. If a payment has not been made by April 1, 2014, a $35.00 late fee will be added to your account.
Payments may be sent by mail, paid online using your Credit/Debit Card, or you may call the office at (815) 937-0720 and pay using a Credit/Debit Card.
Your ECA 20123Annual Ministerial Report Form will also be enclosed with your credentials. Members must have them submitted by April 1, 2014.

If you have not submitted your 2012 Annual Ministerial Report, we must receive it in order for you to receive your 2014 Credentials.

Click here to obtain online instructions and access to complete your: 2013 Annual Ministerial Report

To receive instructions and access to complete previous Annual Ministerial Reports, Click Here.

All of ECA's members are encouraged to submit their payments and reports within the time frame indicated in order to prevent additional notifications and costly follow up.

ECA's Policy also requires that members contact the ECA within 45 days upon a change of address and/or contact information.

If you did not receive your credentials in December it more than likely means that you have not submitted previous payments or reports. In this case, please contact our office to determine the status of your account. You may phone: 815-937-0720.
---
ECA Logo Registered with the U.S. Patent and Trademark Office

The Evangelical Church Alliance has been issued a Certificate of Registration from the U.S. Patent and Trademark Office for its name, logo and acronym. This includes our corporate name, "Evangelical Church Alliance"; acronym, "ECA"; and the a.k.a., "ECA International".

The registration of our logo stipulates our protected use of the Eastern and Western Hemisphere globes overlayed with the Western Hemishpere on top and one half height higher than the Eastern Hemisphere and a cross coming from the top center of the Eastern Hemisphere.

Whenever applicable and appropriate, the symbol "®" will be used on the ECA's printed and electronic media.

The ECA Board of Directors has designated the following policy regarding the use of its logo and trademark:

Policy Regarding the Use of the ECA Logo and Trademark by ECA Members, Churches and Affiliate Organizations
ECA members, churches and affiliate organizations may use the corporate logo and trademark provided they are members of the ECA in good standing. The following rules of use will apply:
1. User must agree with ECA Tenents of Faith and Ministerial Ethics as outlined in ECA Constitution and By-Laws.
2. Churches and affiliate organizations must immediately notify the ECA of any changes in their constitution or by-laws.
3. The ECA trademark must be used in its entirety with the "®" symbol next to the trademark along with the text; "Member of the Evangelical Church Alliance."
4. ECA reserves the right to withdraw permission for use of the ECA logo and trademark at any time.
Any members desiring artwork of the ECA logo and trademark may contact our office.
---
The ECA is a member in good standing of the Evangelical Council on Financial Accountability (ECFA). Our compliance with ECFA's standards gives testimony to our commitment to the highest standards of fundraising and financial management.
---